This article is part of the Energy.gov series celebrating the 20th anniversary of the Energy Department's Clean Cities initiative by highlighting the work of some of the community-based coalitions that are helping reduce our nation's petroleum consumption in transportation.
Over the past 20 years, many Clean Cities coordinators have invested time and effort to help reduce their communities' dependence on petroleum for transportation. We sat down with Kentucky Clean Fuels Coalition's Melissa Howell -- the longest running coordinator in one of the program's earliest coalitions -- to get her take on transitioning her state off oil.
Question: How did you first become involved in Clean Cities?
Melissa Howell: I was having dinner with my husband and a client of his. A discussion about natural gas vehicles came up and I went, "What?" having never heard of a natural gas vehicle. And it just took off from there. [At the time] I was working for a city commissioner here in Louisville, Kentucky. He was very interested and was in a position to provide leadership.
Q: How has Clean Cities helped shape the alternative fuels market over the past two decades?
MH: The information resources (including lessons learned and best practices) available from the Department of Energy and the National Renewable Energy Laboratory have totally redefined the education curve. You make better decisions in business when you have more knowledge. Now, you have a much more educated industry. There are very few scenarios with respect to any of the fuels or technologies that somebody else hasn't already thought about or tried to make happen that you can't learn from.
Q: What's the most important lesson you've learned while working for Clean Cities?
MH: The most important lesson that I've learned in 20 years is the importance of partnership. In this industry, the greatest successes were partnerships. Everyone was at the table to begin with -- the financial folks, the vehicle folks, the infrastructure folks.
Q: What are some of your favorite projects?
MH: All of the work we've done with Mammoth Cave National Park. It was the first National Park fleet in the Department of Interior to be 100 percent alternative fuel, and we're very proud of that. Also, Kentucky has the largest fleet of hybrid electric school buses in the nation and that's given our coalition a lot of credibility. We track data every single month on every bus. I've also worked with UPS to replace engines on the company's ground equipment, as well as use propane and biodiesel. UPS has been a very strong partner with us.
Q: What do you consider your greatest accomplishment?
MH: Still being here 20 years later. I think the reason we are successful is because of our longevity. We've established ourselves across the nation with our members. They know if they come to us, the information is credible [and] timely. Our longevity is my greatest pride.
Q: Describe your ideal vision of the transportation sector.
MH: My vision for the transportation industry in Kentucky is one of choices -- of fuels and technologies that are more efficient and make better use of our natural resources here in Kentucky. This vision inspires me because in the Kentucky Clean Fuels Coalition, we've made a difference and we continue to make a difference every day. And I know that because I see the market growing.
Q: What makes you the most excited for the future of Clean Cities?
MH: Right now, what I'm most excited about is our sudden jump into the freight industry -- whether that is airplanes, heavy-duty trucks or river barge carriers. Without these, we're dead in the water. That's where the huge throughput is -- mass quantities of fuel savings, mass air quality improvements.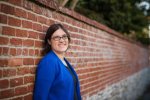 Shannon Brescher Shea
Shannon Brescher Shea (shannon.shea@science.doe.gov) is the social media manager and senior writer/editor in the Office of Science's Office of Communication and Public Affairs.
more by this author