You are here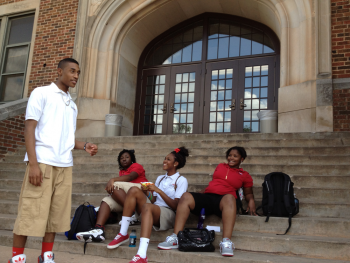 During a yearlong renovation, Harding Charter Preparatory school upgraded lighting fixtures, installed a new heating and cooling system, and replaced the entry doors. The new doors allow daylight into the school and restore the historical building envelope. | Photo courtesy of John Winkel, Energy Department.
The Harding Charter Preparatory school has a long history of educating students in Oklahoma City. Originally built in 1925, the Harding school building served as a junior high school for nearly 30 years before the facility was transitioned into a junior high and high school and then finally closed down. After sitting empty for more than a decade, in 2003 Harding Charter Preparatory moved into the run-down building.
Recently, Harding Charter Preparatory undertook a yearlong renovation, making the school a more suitable environment for high school education, thanks to funding from the Energy Department's State Energy Program. As part of the energy-efficient improvements, Harding upgraded lighting fixtures and bulbs, installed a new HVAC system and replaced the entry doors. Other improvements include adding an energy management system, which monitors, controls and optimizes the performance of the building. These upgrades are expected to save nearly 2 million kWh of electricity annually and more than 1,000 MMBtus of natural gas -- or about $45,000 in annual energy costs.
The school building renovations provided space for two charter schools, one focused on arts and one with a college preparatory focus. Ranked the number 1 high school in Oklahoma by US News and World Report and number 119 in the country by Newsweek, Harding Charter now operates with a first-class, re-purposed and cost-effective building.