You are here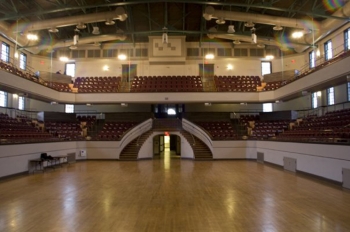 Since January, when energy efficiency improvements were made to Memorial Hall, the civic center for the Plymouth, Mass., community, the building's energy savings have been nearly $1,200 per month. | Photo courtesy of the city of Plymouth.
The town of Plymouth, Massachusetts, is synonymous with Thanksgiving. One year after the 1620 landing of the famous Mayflower, the town was the site for the very first harvest celebration between the Pilgrim settlers from England and the local members of the Wampanoag tribe.
As "America's Hometown," Plymouth has embarked on a path to energy efficiency to reduce energy waste in the coming years, while also exploring opportunities to expand use of renewable energy sources.
A 2009 energy audit identified the largest uses of municipal energy, as well as where the biggest savings could be realized. To help implement energy efficiency upgrades, the town received $514,000 in Energy Efficiency and Conservation Block Grant funding from the U.S. Department of Energy as part of the American Recovery and Reinvestment Act.
One of the most obvious projects on the town's list was to improve the energy efficiency of Memorial Hall, a 1,300 seat civic arena built in 1921 and used for concerts, plays, town assemblies, proms, graduations, and basketball games.
The town used over $60,000 in EECBG funds as well as more $23,000 in additional funding from local utility NStar to complete a number of energy efficiency upgrades, including a new chiller for the air conditioning system, occupancy sensors to turn on the air conditioning in targeted sections of the building and a wide range of heat pump and boiler upgrades.
The Memorial Hall work was completed in January, and the town is monitoring its utility bills to gauge the effectiveness of the upgrades, which so far have saved nearly $1,200 per month.
The South Street Public Library also had work done. The town energy audit determined the library used almost 20 percent of the town's annual electricity, so the town used $20,000 in grant funding to implement lighting upgrades in the 20,000-square-foot facility. Energy savings from the upgrades should pay for the improvements within two years.
Additional projects in the works include: a new boiler for the West Plymouth Fire Station, new thermostats for the Town Hall and two elementary schools, and a new energy efficient water pumping motor for the Darby Pond Well.
"Reducing our energy usage has been a goal of the town of Plymouth for the past few years," said Patrick O'Brien special assistant to the town manger and the town's energy officer.  "Plymouth's goal of having all municipal power come from renewable power by our 400th Anniversary [in 2020] is helped by projects like these that both reduce our usage and allow for potential new projects."
All told, the variety of upgrades is providing a number of reasons for local residents to be thankful this Thanksgiving.