This year, nearly 38.9 million Americans will pack up their cars and hit the road for the Thanksgiving holiday, traveling 50 miles or more, according to AAA. While gas prices are at a two-year low -- selling for less than $3 a gallon in many states -- fuel costs can still add up quickly.
If you're one of the millions traveling by car over the holiday weekend, check out three tools that will help you save money on your trip.
3. Fuel Savings Calculator: This interactive tool allows you to estimate how much you spend on fuel a year or compare the fuel savings of two cars. Simply input the average fuel economy of your car(s), the number of miles you drive a year (or even the distance of an upcoming road trip), and how long you plan to own the car to figure out your fuel costs and which vehicle could save you money.
2. Alternative Fuel Station Locator: If you have a vehicle that runs on something other than gasoline, check out the alternative fuel station locator app. Based on the desktop version of the alternative fueling station location, the app now makes it easier to find stations that sell alternative fuel. Just select a fuel type -- anything from electricity to natural gas to propane -- and the app will map the stations closest to your current location. Plus, you can use the app's filters to only search for stations that are open to the public or stations that accept a certain payment method.
1. My Trip Calculator: A one-stop shop for any road trip, My Trip Calculator is an interactive tool that helps you plan your route, pick your car and estimate your fuel costs. Enter your start and final destinations for turn-by-turn directions and estimated driving time. You can also compare the fuel costs of up to three cars to decide which one you should take before you hit the open road.
And be sure to also check out fueleconomy.gov for tips on increasing your gas mileage and saving money at the pump.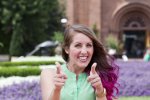 Rebecca Matulka
Served as a digital communications specialist for the Energy Department.Served as a digital communications specialist for the Energy Department.
more by this author