This article is part of the Energy.gov series highlighting the "Top Things You Didn't Know About…" Be sure to check back for more entries soon.
10. Modeled after the Defense Advanced Research Projects Agency (DARPA) -- the agency that brought us the GPS, the stealth fighter and computer networking -- the Energy Department's Advanced Research Projects Agency-Energy (ARPA-E) funds game-changing energy technologies. While these projects are typically too early for private-sector investment, they have the potential to change the way we generate, store and use energy.
9. Since ARPA-E was created in 2009, the program has funded more than 285 projects -- many of which have already demonstrated early market successes.
8. In the past three years, ARPA-E funding has led to more than 34 patent applications and at least 16 awarded patents. This has included methods to enhance the properties of microbes for the production of fuels as well as liquid batteries suitable for the electric grid.
7. Envia, one of the first companies to receive ARPA-E funding through its 2009 open solicitation, announced the world record in battery energy density at 400Wh/kg for rechargeable lithium-ion batteries in 2012. That's double the capacity of today's batteries or enough energy to increase an electric vehicle's range to 300 miles.
6. Imagine being able to drive your car using fuel produced from bacteria. That isn't too far off thanks to research into electrofuels -- a word coined by ARPA-E that has now become a standard industry term for an emerging class of carbon-neutral transportation fuels that are created using microoganisms, carbon dioxide and electricity. ARPA-E is the only government agency currently funding electrofuels research, and the program has the potential create a transportation fuel that is cost-competitive with traditional gasoline-based fuels and 10 times more efficient than existing biofuels.
5. How can we store renewable energy like wind and solar for future use? One option is to store energy in compressed air in salt caverns or pressurized tanks. When electricity is needed, the compressed air is expanded to produce electricity. ARPA-E awardee, General Compression, took this innovation a step further and developed a compressed energy storage system that doesn't burn gas to convert the stored air back into electricity. The result is a system that is 100 percent renewable, is carbon-free and makes integrating renewables into the grid cost competitive with gas, coal and nuclear power generation.
4. Once ARPA-E projects are finished, many awardees continue to take their technology innovations from the lab to the market. At least 12 ARPA-E projects have generated spin-off companies, including Urban Electric Power. The small New York City startup is commercializing low-cost, lead-free zinc anode rechargeable batteries that are designed for a wide range of applications in the growing energy storage market.
3. Inspired by the design of jet engines, ARPA-E awardee FloDesign flipped wind turbine design on its head and developed a shrouded turbine -- essentially three blades surrounded by two different sized fiberglass frames. In 2011, FloDesign deployed a working prototype in Boston Harbor that is smaller, three to four times more efficient and significantly cheaper to produce than existing turbines.
2. As of February, 17 projects have attracted at least $450 million in private-sector follow-on funding after ARPA-E's initial investment of approximately $70 million.
1. Sometimes big innovations come in small packages. Cree, with the help of ARPA-E funding, developed a 1-megawatt silicon carbide transistor -- the technology used to control the energy that flows through an electrical circuit. While only the size of a human fingernail, Cree's transistor (also referred to as a wide bandgap semiconductor) is 50 percent more efficient than traditional transistors and capable of high-frequency switching well suited to the intermittent nature of renewable energy generation. This semiconductor technology could lead to new smaller, lighter transformers that more reliably transmit power in our electric grid.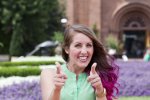 Rebecca Matulka
Served as a digital communications specialist for the Energy Department.Served as a digital communications specialist for the Energy Department.
more by this author