You are here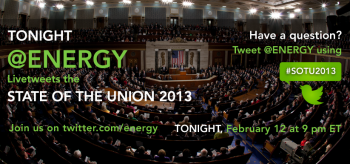 Stay tuned as we livetweet the President's annual State of the Union Address later this evening. | Graphic by Sarah Gerrity, Energy Department.
Join us this evening, February 12 at 9 p.m. ET as we livetweet the president's annual State of the Union Address. To participate be sure to follow the @Energy twitter handle as we share major energy points delivered by the President during tonight's speech.
Share your own perspectives and reactions throughout the speech by tweeting @Energy using #SOTU, leaving a comment on our Facebook and Google+ pages or sending an email to newmedia@hq.doe.gov. We'll be featuring some of your State of the Union feedback in a Storify recap later in the week. For an enhanced version of the address – including access to charts, facts and other info as the President speaks -- watch the State of the Union live on WhiteHouse.gov/SOTU.
Immediately following the State of the Union, you'll have the opportunity to submit questions about the President's address to a panel of senior advisors during a special White House Open for Questions event. For additional details on this virtual Q&A, including the Open for Questions panel lineup, take a look at this White House blog post.
We look forward to joining you in discussion later today.