You are here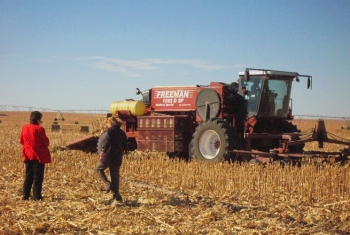 Join us live today at 1 PM EST for a discussion on advanced biofuels | Photo courtesy of FDC Logistics.
Over the past two weeks, we've featured a number of stories about how advanced biofuels are strengthening our national security and creating economic opportunities across the country. Today, we want to hear from you as we host a live Twitter Q&A on biofuels with Dr. Valerie Reed, Acting Manager of the Biomass Program – starting at 1 PM EST this afternoon.
Dr. Reed holds a Ph. D. in Biochemistry from Georgetown University. In addition to her programmatic activities, Valerie is a founding member of the Metabolic Engineering Working Group, which is an interagency effort to advance metabolic engineering technologies for industrial, agricultural and human needs. She also co-chairs the Interagency Working Group on Conversion Technologies established through the Biomass R&D Board to coordinate the Federal effort on Bioenergy.
You can submit your questions on biofuels to Dr. Valerie Reed in advance of the event by:
Simply follow @energy on twitter or visit our page at twitter.com/energy starting at 1 PM EST.