You are here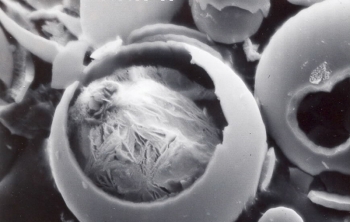 SRNL's Porous Walled Hollow Glass Microspheres (which are about half the width of a human hair in diameter) have a network of interconnected pores that enable them to be filled with, hold and release gases and other materials. | Image courtesy of SRNL
If these glass microspheres' walls could talk…They would explain how their tiny pores allow the potential for handling, storing and transporting a variety of materials, including drugs that have targeted delivery and hydrogen.
Hollow glass microspheres have typically been used for applications such as lightweight filler material, insulation and abrasives. But by creating openings in the microspheres' walls, the Energy Department's Savannah River National Laboratory (SRNL) has helped widen the possibilities for use.  The new technology has already elicited five separate patent filings.
SRNL's Porous Walled Hollow Glass Microspheres (which are about half the width of a human hair in diameter) have a network of interconnected pores that enable them to be filled with, hold and release gases and other materials. The walls act as a protective bubble, allowing the microsphere to hold reactive or flammable absorbents or stored materials -- including solids, liquids or gases.
The SNRL-invented technology was recognized as one of the 100 most significant technologies available for sale or license in 2010 by winning a prestigious 2011 R&D 100 award, in the annual competition conducted by R&D Magazine.
Mo-Sci Corporation, a specialty glass provider in Rolla, Missouri, has a license agreement with SRNL to manufacture and market the microspheres, and was a co-recipient of the award, along with the Georgia Health Sciences University (GHSU) and Toyota.
SRNL has been working with Toyota since 2005 on multiple projects to improve hydrogen storage material for potential automotive applications. Meanwhile, the Lab's joint program with GHSU has investigated drug-delivery systems and Magnetic Resonance Imaging contrast agents, which are used to enhance MRI visibility.
The Lab originally developed the microspheres as a solid-state storage method for hydrogen as part of its support of the Energy Department's nuclear defense mission. In addition to the five patents already filed, ongoing research projects are expected to identify further uses.
Learn more about the Energy Department's 36 R&D 100 winners here and learn more about the Office of Environmental Management's SRNL here.