You are here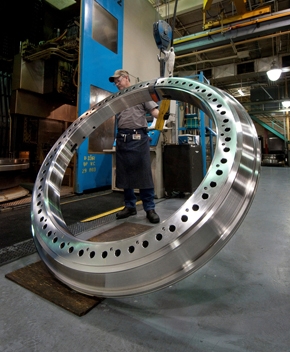 Some of Timken's bearings are so large that a small car could conceivably drive through the center. | Photo courtesy of The Timken Company
The Timken Company - which will be 111-years-old this year - has a long tradition of investing in new technologies. After assessing their business in recent years, the Ohio-based, global manufacturer saw a market opportunity and decided to invest in a new manufacturing capability: producing the massive bearings for large wind turbines.
"Timken has the tenacity to continue to invest into the trough of the recession," says Lorrie Crum, manager of global media and strategic communications. "That's what it takes to survive in this economic climate."
Using a 48C Advanced Manufacturing Tax Credit, the company will retool production processes in its Union, S.C. plant-known as Tyger River-to manufacture heavy-duty bearings responsible for producing power from wind turbines.
Tyger River has been serving the mobile machinery and industrial markets since the early 1900s. With the decline and commoditization in some of those markets, Timken saw a competitive opportunity to apply its combined knowledge of materials and power transmission engineering to serve the wind industry.
Tons of wind bearings
Timken specializes in producing and working with high-performance steel that is free of microinclusions-contaminants that could cause breakage or early fatigue in steel components-a trait that is essential for the stressed, moving elements in wind turbines.
This high-quality steel, along with extensive work in power transmission systems, makes the shift to the wind industry an easy shift for Timken.
"The higher quality the steel, the longer the bearings and other components can last." says Crum.
Depending on the size of the turbine for which they are designed, these bearings can weigh hundreds of tons. The bearings usually are equipped with integrated sealing and lubrication to optimize operation for consistent power generation with minimal machine fatigue. Moving equipment often experiences fatigue over time due to friction.
"Our engineers design these systems to minimize and eliminate friction to give machinery the longest life possible," Crum says.
More about the 48C
The U.S. Department of Energy and U.S. Department of the Treasury partnered to help fund more than 180 clean energy manufacturing projects through the 48C tax credit. The funds will be used to produce solar panels, wind turbines, geothermal equipment and other clean energy projects—putting the country on track to double capacity to manufacture these components by 2012.
With complex manufacturing happening at Tyger River, machine operators need to be highly trained and skilled. Timken's Tyger River facility provides 430 jobs, most of which require certifications to manage various computer-aided processes and equipment.
"We engineer, make and service many kinds of power transmission components and assemblies that drive any kind of machinery that has to move or turn. The heavy lifting and muscle that's needed to turn and move machinery is powered by these bearings," Crum says.
"These are precisely engineered products, rated and designed very specifically for conditions and loads they have to handle," Crum says.
For that reason, Timken often works with customers to custom-produce their products. "Each company has a particular design based on performance and environmental characteristics," says Crum. "That is the real value we bring to enhance reliability of our customers' machinery."