What do a global building and automotive manufacturing company, a major U.S. retailer, and a telecommunications company all have in common? They are the most recent companies that have pledged to be leaders in energy efficiency -- a commitment that will help improve their competitiveness by reducing energy waste, saving money and creating jobs.
Today, Johnson Controls, Macy's and Sprint joined the Better Buildings Challenge -- a national program launched by President Obama to make America's commercial and industrial buildings at least 20 percent more efficient by 2020. As part of the challenge, corporations, universities, and state and municipal partners commit to take aggressive steps to reduce energy use in their facilities, showcase innovative energy efficiency strategies and share their progress. If every commercial building in this country reduced its energy bills by 20 percent, business owners would save nearly $40 billion annually in energy costs.
Since the program started in December 2011, more than 110 organizations -- representing two billion square feet of building space, more than 300 manufacturing facilities and almost $2 billion in energy efficiency financing -- have partnered with the Energy Department in the Better Buildings Challenge. The commitments of Johnson Controls, Macy's and Sprint will add an additional 200 million square feet to the nation's portfolio of energy efficient buildings.
Specific company commitments include:
Johnson Controls will reduce its energy use by 25 percent in 71 U.S. manufacturing plants -- covering 16 million square feet -- by 2019. This is in addition to the 25 percent reduction the company achieved between 2002 and 2008.
By 2020, Macy's will cut its energy use by 20 percent -- a commitment that will improve the efficiency of 179 million square feet of commercial real estate. In the past three years, Macy's installed more than one million LEDs as accent lighting -- helping to reduce the energy used for this lighting by 70 percent.
Sprint will reduce its energy consumption by 20 percent by 2017. In addition to focusing on energy efficiency, Sprint also relies on renewable energy to reduce its impact on the environment. The company currently gets 5 percent of its energy from renewable sources.
Johnson Controls, Macy's and Sprint -- along with the other Better Buildings Challenge partners -- are showing that investing in energy efficiency upgrades is a viable business solution that saves energy and money. The commitments companies make through the Challenge will help meet the President's goal of cutting the energy wasted by our homes and businesses in half over the next 20 years. Learn more about the Better Buildings Challenge and the partners' energy efficiency commitments.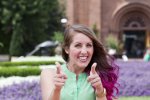 Rebecca Matulka
Served as a digital communications specialist for the Energy Department.Served as a digital communications specialist for the Energy Department.
more by this author