You are here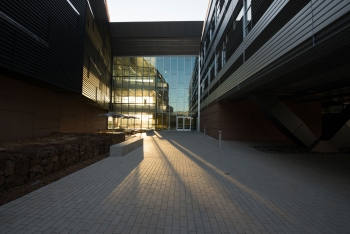 The sun rises on the Energy Systems Integration Facility (ESIF) at the National Renewable Energy Laboratory (NREL) in Golden, Colorado. Research at ESIF will help overcome challenges related to the interconnection of distributed energy systems and the integration of renewable energy technologies into the electricity grid. | Photo by Dennis Schroeder, National Renewable Energy Lab.
From improving the resiliency of the electric grid to devising new ways to integrate low-carbon sources of energy, the Energy Department's National Labs are at the forefront of modernizing and securing our nation's electricity infrastructure. To help drive this innovation, the scientists at the National Labs use some of the most cutting-edge facilities in the world -- many of which are also available for use by other government agencies, private companies and universities.
These facilities are being used to develop new technologies, serve as testing centers for the deployment of those technologies and foster economically beneficial public-private partnerships.
Pacific Northwest National Lab's Electricity Infrastructure Operations Center (EIOC) provides a real-operations environment for researchers to develop, assess, test and deploy tools for managing and controlling the grid. Shaped with input from utilities, technology vendors and researchers, this control room brings together industry-leading software, real-time grid data and high performance computers. The new technologies developed at the EIOC will be transferable across the industry and address the national need for a more reliable and effective electricity grid.
As the cost of clean energy technologies, like wind and solar, continues to drop and deployment skyrockets, we need to figure out how these distributed sources of energy can be integrated into our electric grid. The Energy Systems Integration Facility at the National Renewable Energy Laboratory, recently named 2014 Lab of the Year by R&D Magazine, seeks to address this challenge. The facility combines a high performance computing data center, an electrical distribution bus (a type of power integration circuit) and real-time data gathering system that allow researchers and NREL partners to visualize complex systems and operations in a completely virtual environment. The facility's megawatt-scale power-in-the-loop system allows researchers and manufacturers to conduct integration tests at full power in real-time simulations and evaluate component and system performance before going to market.
Last year alone, Americans bought nearly 100,000 plug-in electric vehicles. As the popularity of electric vehicles continues to grow, scientists and engineers must determine how to integrate these technologies into the electric grid. At this world-class facility, public and private sector partners work together to develop standards and test procedures that ensure electric vehicles and charging stations work together seamlessly. The EV-Smart Grid Interoperability Center leverages existing vehicle, battery and powertrain component test facilities at Argonne National Lab to study and validate AC, DC and wireless electric vehicle supply equipment; develop and verify software and embedded systems to support connectivity and communication between the electric vehicle and grid interface; and examine infrastructure-related systems to help develop a robust and reliable vehicle-to-grid network.