You are here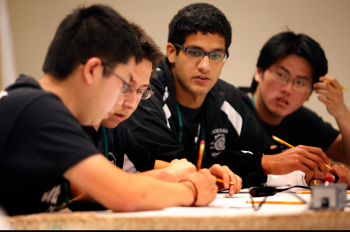 Members of the Los Alamos High School team, Los Alamos, New Mexico, concentrates on the answer to a question at the 2012 National Science Bowl in Washington D.C. on April 29, 2012. | Photograph by Dennis Brack, Office of Science
"The battle of wits has begun," said the Man in Black in the movie, The Princess Bride. That'll soon be true for the students competing in the Department's National Science Bowl. Until March 9th, thousands of middle- and high-school students will compete in 120 regional competitions all across the country as well as Puerto Rico and the Virgin Islands. The prizes aren't quite on par with winning the hand of a princess, but offer pretty bright prospects nonetheless.
That's what the National Science Bowl, which is managed by the Office of Science, was created to do. Now in its 23rd year, the competition was established to encourage students in the challenging but essential subjects of science and mathematics; to excel and ultimately pursue careers in those fields.
It's succeeding. Since its inception, more than 225,000 students have participated in what has become one of the nation's largest science competitions. This year, about 9,500 high school students and 4,500 middle school students are expected to engage, many of whom will likely go on to become scientists and teachers, engineers and leaders.
But first, the students will have to win through a battle of wits, and that won't be easy. In the regional competitions, teams of four students each will be faced with tough mathematical problems and tested on their knowledge of a vast number of areas including astronomy, biology, Earth science and physics. (A couple of the questions the students face could even relate to Australia, though it's inconceivable they'll have anything to do with iocane powder.)
Regional winners will earn fully-paid trips to Washington D.C. for the National Finals, scheduled for April 25-29. There the students will be tested with more difficult questions, as well as a car race (middle school) and a science challenge (high school). The national champions will receive pretty amazing prizes (which will be announced at a later date).
Only one middle and high school team apiece can win the Finals prize. But every student who competes will bring back something valuable. Many of the students will take home the facts they've had to memorize, as well as perhaps a better set of problem-solving skills. Yet the real value of the Science Bowl is in the habits of discipline and deferred gratification that all of the students learn along the way; the necessity of hitting the books instead of the mall.
Those hard-won habits of mind – and will – are likely to make the students successful in life long after the Finals are over. And that's what the Science Bowl is really all about. So let the battle of wits begin.