You are here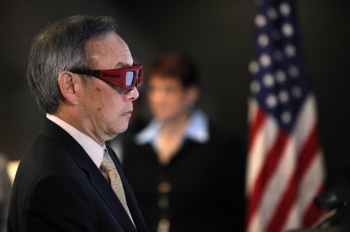 Secretary Chu stops at Oak Ridge National Lab in February 2012 for a quick, nuclear-themed visit that included a tour of the Consortium for Advanced Simulation of Light Water Reactors (CASL) and a stop at the new Manufacturing Demonstration Facility (MDF). | Photo by Adam Brimer of the News Sentinel.
This post is based on our submission to the photo meme "Texts from Hillary" via @EnergyPressSec and Secretary Chu's Facebook page. 
If you haven't seen it yet, the photo meme "Texts from Hillary" shows Secretary of State Hillary Clinton working diligently on her Blackberry in a military transport aircraft, responding to chummy celebrities and politicians with terse one-liners. 
We showed the Tumblr to Secretary Chu and he thought is was as hilarious as everyone else on the Internet, so we got to work on a contribution on his behalf.
We sifted through our pictures of Secretary Chu touring the Solar Decathlon, visiting national labs and speaking to various audiences. We then came upon photos from his visit to the Consortium for Advanced Simulations for Light Water Reactors (CASL) at Oak Ridge National Lab last month. 
The goggles Secretary Chu wore in our contribution to the meme are actually 3D, but not like the ones at the theater. These glasses actually allow researchers to virtually walk through and navigate the interior of nuclear reactors still in development. Here's a video of the Virtual Reactor (VR) in action. 
The VR is one component of CASL, an Energy Innovation Hub, where researchers and engineers use serious computing power, over 2.2 petaflops, to simulate fission reactions and literally see how they interact with the materials and complex processes of the reactor itself. The goal: making the next generation of reactors safer and more effective.
The meme was floating around the Internet for about a week before it peaked -- with an actual text from Secretary Clinton. On Wednesday, the two gentlemen who started the Tumblr posted their final note closing out further submissions. This happened about an hour before submitting our own text to Hillary from Secretary Chu. We missed it by a hair, but it's still posted to the Secretary's Facebook page.
So, Secretary Clinton, we'll have you know that 3D glasses aren't "sooo 2011." In fact, they are looking to the future -- of light water reactors.