You are here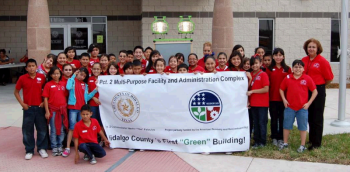 Fifth graders from Pharr-San Juan-Alamo Independent School District's North Alamo Elementary celebrate the opening of the new Precinct 2 Multi-Purpose Facility and Administration Complex in Hidalgo County, TX. The students received tours of the facility and heard presentations from vendors and other green organizations in the Rio Grande Valley on energy efficiency ideas for the home, recycling, energy production and consumption, wind and solar power and groundwater runoff.
More than 350 residents and students celebrated the grand opening of the first "green" building in Hidalgo County, Texas, last week by "flipping the switch" in place of a traditional ribbon-cutting. The switch — engineered from a large breaker box with utility lights fused to the top —signified the county's achievement in improving how public buildings are designed, built and operated, as well as its ongoing efforts to promote environmental sustainability.
Hidalgo County used approximately $822,000 of the $3.5 million the county received in Energy Efficiency and Conservation Block Grant (EECGB) funding to turn the Precinct 2 Multi-Purpose Facility and Administration Complex into a high performance energy-efficient complex with both solar and wind renewable generating capacity.
The complex features five wind turbines capable of producing a total of up to 2,000 Kw per month, two solar panel trellises expected to produce an average of 4,626 Kw per month of electricity, and 71 LED solar powered lights for the parking lot that should save approximately 12,000 Kw of power per month based on dusk-to-dawn operations. Other green features of the five-building complex include Insulated Concrete Forms (ICF) exterior walls, which provide for greater thermal resistance from the elements; recycled content metal doors and frames, vinyl tile flooring, ceiling suspension systems, and plastic laminates; paperless gypsum sheetrock; low VOC (volatile organic compound) interior and exterior paints; low water consumption plumbing fixtures; and energy-saving occupant sensor lights.
The county's immediate cost savings will be about $30,000 a year, which is expected to increase as future expansion plans are implemented. The project created approximately 300 temporary construction jobs over the course of the 10 month building period and an estimated 10 permanent jobs.
The complex is the hub of county operations for the area. It houses the administrative offices of Pct. 2 Commissioner Hector "Tito" Palacios, a Health and Human Services clinic, a W.I.C. clinic, a substation for the tax assessor-collector, the Pct. 2 Constable's Office, and offices for two Justices of the Peace. It is expected to serve more than 1,000 people daily.
"This is about providing services to the people in Hidalgo County," said Commissioner Palacios. "It's about taking care of the needs of the people. And also, it is our first green building, the first government building in all of South Texas like this. We were thinking long-term when we built this."