You are here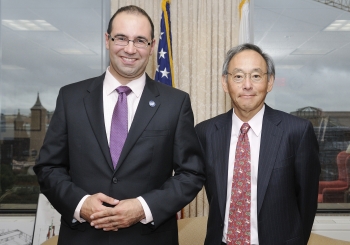 Dr. Riccardo Signorelli, CEO of FastCAP Systems meets with Secretary Chu. Signorelli founded a startup focused on researching and developing carbon nanotube ultracapacitors and was chosen by Technology Review as a "35 Under 35" innovator along with Foro Energy's Dr. Joel Moxely (another ARPA-E performer). | Courtesy of ARPA-E.
In the rapidly changing world of science and technology, it appears that age really is just a number — and today's innovators are getting younger and younger. Technology Review, a magazine published by the Massachusetts Institute of Technology, annually recognizes the world's top innovators under the age of 35. Technology Review's process for choosing the "35 under 35" (or "TR35") centers on finding young technologists who are "tackling important problems in transformative ways." This ranges from developing entirely new technologies to repurposing existing ones: like reprogramming stem cells to repair blood vessels or creating programs for anonymous web sharing. This year's list, which was released earlier this fall, includes two ARPA-E performers, both of whom are developing ways to transform ideas into reality in the world of clean energy.
For Dr. Joel Moxley, this means improving traditional drilling technologies, which have been held back from reaching the vast quantities of geothermal and other forms of energy trapped beneath ultra-hard rock by technical and economic barriers. Lasers powerful enough to blast through these layers of rock already exist, but laser beams transmitted along conventional fiber optics lose too much power, and the lasers themselves are too large and fragile to send down boreholes. With this dilemma in mind, Moxley launched Foro Energy in 2009. Foro Energy is developing systems that can transmit a laser beam along thousands of meters of fiber-optic cable, while maintaining the beam's ability to help cut through ultra-hard rock many times faster than a traditional drill. This technology caught the attention of ARPA-E and was awarded $9 million in 2009.
While Foro Energy is thinking big, another ARPA-E performer and TR-35 innovator is thinking small —very small. Since 2008, Dr. Riccardo Signorelli has served as CEO of FastCAP Systems, a startup focused on researching and developing carbon nanotube ultracapacitors, a technology that combines the advantages of ultracapacitors and batteries without the disadvantages of either.  If successful, this project would greatly reduce the cost of hybrid/electric vehicles while increasing their safety and reliability. ARPA-E awarded FastCAP Systems $5 million in 2009, and they were recently awarded up to $2.2 million by the Office of Energy Efficiency and Renewable Energy's (EERE) Geothermal Technologies Program and featured on the White House blog.
While these technologies are new, the inclusion of ARPA-E performers in the "35 under 35" list is not. In 2010, Technology Review recognized Dr. David Bradwell, a member of Dr. Donald Sadoway's team at MIT that is developing the world's first liquid metal battery for community-level energy storage. The project was awarded almost $7 million in 2009 and was recently featured on Energy.gov.
This year's winners were recognized at MIT's 2011 Emerging Technologies Conference, which was held October 18-19 in Cambridge, Mass. Both Dr. Eric Toone, Deputy Director for Technology of ARPA-E, and Dr. Henry Kelly, Acting Assistant Secretary and Principal Deputy Assistant Secretary for EERE, served as panelists at the conference. Toone presented case studies of ARPA-E funded startups, while Kelly served on a panel examining the scalability of clean energy sources.  Congratulations to all performers and panelists!