You are here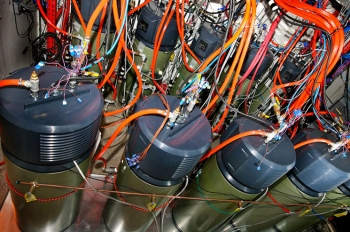 Oak Ridge National Laboratory's facility tests several water heaters at one time. Because of ORNL's accelerated durability testing, they estimate that 10 months of constant operation in its testing facility is comparable to 10 years of service life in a typical residential setting. | Photo courtesy of the Building Technologies Research and Integration Center, ORNL
Out of sight and out of mind, the humble water heater goes mostly unnoticed until the day it quits and you miss that hot morning shower.
Despite its inconspicuous role in your home, heating water for bathing, cleaning, and laundry can be the second largest household energy expense. In fact, Americans spent a whopping $33.8 billion on residential water heating in 2010 -- anywhere from $200 to $600 per household. And the market for innovative water heaters that will save consumers money by saving energy is continuing to grow. In the U.S., the demand for energy-efficient water heaters grew from 625,000 units shipped in 2006 to 1 million in 2009.
Energy Department partnerships with industry are driving many of the product innovations that have made reliable and efficient water heating an affordable option for consumers.
For 35 years, the Office of Energy Efficiency and Renewable Energy's (EERE) Building Technologies Program has spearheaded research and development activities resulting in more energy-efficient residential water heaters. Technology advances such as electric heat pump water heaters (HPWH) are making it easier and cheaper for manufacturers to design and produce reasonably priced, reliable, efficient  water heaters for homes across the country.
One of the first successful electric water heater products to come to market is General Electric's GeoSpring heat pump water heater. Before the company moved forward to introduce the technology to market, GE entered into a Cooperative Research and Development Agreement (CRADA) with Oak Ridge National Laboratory (ORNL) in 2008 to rigorously test the new product. Final test results showed the GeoSpring water heater used less than half the energy of a conventional 50-gallon tank water heater and could last at least 10 years. Because of the R&D investments made through this successful public-private partnership, families can now save more than $300 per year on energy bills by using the GeoSpring water heater.
Along with many other electric and gas water heaters, the Geospring is ENERGY STAR-qualified, meaning it delivers important energy and cost savings.  The ENERGY STAR program is a partnership between the Energy Department and the U.S. Environmental Protection Agency (EPA) that highlights the benefits that can come when the country's public and private sectors work together to accelerate the development and deployment of energy-efficient technologies.
The many partnerships between the Energy Department, national laboratories and consumer product companies get to take the credit for the broad market adoption of many of these advanced technologies. By providing independent verification of energy efficiency claims, the ENERGY STAR and national laboratory programs help manufacturers, retailers, builders, and plumbers offer their customers reliable, affordable products that save money without sacrificing performance.