You are here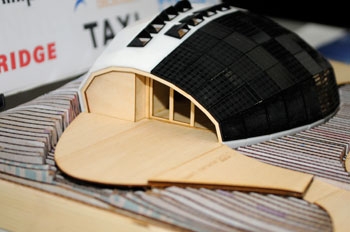 A model of Team Canada's TRTL house | Courtest of Riley Brandt, Team Canada
In honor of the U.S Department of Energy's Solar Decathlon -- which challenges 20 collegiate teams to design, build, and operate solar-powered houses that are cost-effective, energy-efficient and attractive -- we are profiling each of the 20 teams participating in the competition.
For our latest profile, we took a look at Team Canada's design from the University of Calgary, who are making their second go at the competition after placing an impressive 6th out of 20 in the 2009 Solar Decathlon.
The team -- which is made up of participants from the University of Calgary's Faculty of Environmental Design, the Schulich School of Engineering, and the Haskayne School of Business -- say their competitive edge emerges from an interdisciplinary and collaborative approach to design.
Team Canada's house -- which is known as TRTL (Technological Residence that respects Traditional Living) -- addresses critical housing issues in Alberta, Canada's Aboriginal communities. The TRTL design includes specific consideration for the context of Alberta's First Nations communities. The 1000-square-foot home is intended for a young family, with two bedrooms and a large, social space for cooking and eating. The home's solar PV panels will result in an annual net-zero energy balance to ease rising energy costs in remote communities. The team used building materials that are extremely durable, and highly resistant to mold and fire. In addition to these efficiency considerations, the home's exterior and interior are references to the traditions and values of Treaty 7 Nations throughout Alberta.
The methods and technologies the team has used to design their home are meant to improve health, safety, and durability, and offer numerous economic benefits. The team also says that the home's form and function are driven by cultural norms and aesthetic preferences.
In December, TRTL house was blessed by the former Chief of the Piikani Nation Reggie Crowshoe at a traditional ceremony, resulting in the project's Blackfoot name -- Spo'pi -- which means turtle, and translates directly into 'lives on stilts' (a very fitting name given the team's design strategy).
The team says that by "integrating the cutting-edge in green building and efficiency technologies within a framework of improved housing for First Nations, the TRTL concept provides a unique and compelling look into the future of sustainable design, while celebrating the diverse foundations of Canadian history and culture." The design of the home is a response to cultural values and traditions, and was designed and built in collaboration with Aboriginal individuals and organizations.
Visit Team Canada's website for more information about the TRTL house. See the Solar Decathlon website for more information about the competition and other teams involved in the contest.