You are here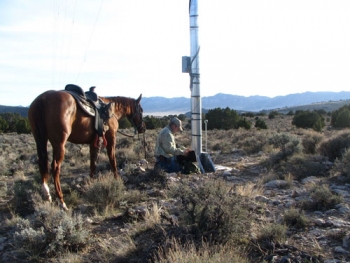 High School Teacher Andy Swapp sits behind a wind turbine. | Photo courtesy Andy Swapp
Locals had accepted the powerful winds in Milford, Utah, as an everyday annoyance that would never change. That is until local high school teacher Andy Swapp realized the wind could benefit the small town.
Andy's "light bulb moment" came in 1999 after he plowed a field on his new farm. He tells how the infamous wind swept up dirt from the field sandblasting the paint right off his barn. Most people would become frustrated but Andy felt differently, "I thought wow let's do something with this, this is powerful, something good," he recalled.
He thought it might be possible to use the wind to power his farm, after all Milford and nearby Beaver City were no stranger to energy efficiency. "I started thinking, we've got a geothermal plant, we've got these farmers and ranchers that use solar panels, and we've got this incredible wind resource." Andy obtained a state-owned anemometer for his farm, an instrument that measures winds speed.
Not much more would have come of it without the attention the anemometer brought, "Curtis Whittaker came along, we sat and talked and we formed a partnership of sorts and things really blossomed from there," says Andy. Curtis had come back to his hometown to conduct the same wind experiments as Andy, planting the seeds for their partnership.
Andy, a physics and engineering teacher says his students at Milford High were another major collaborator. He offered the opportunity for all grade levels to participate in the project, dubbing them the Wind Kids.
The Wind Kids were expected to complete complex math formulas to determine wind strength and velocity, and they succeeded at every challenge "Now we have to know the wind formulas, we're teaching them how to be engineers and having fun," says Andy. He had discovered a way for the students to be excited about math and science.
Now Andy and his team of collaborators were ready to get wind companies interested in Milford's wind project. Curtis recommended Andy as a consultant to Boston-based First Wind.
After discussions with Andy and Curtis, First Wind agreed to build a wind farm in Milford. The Wind Kids had already briefed the county commission about the benefits of their wind project, "By the time the developer came in, everyone was well informed and welcomed the idea," says Andy.
First Wind built 97 wind turbines for the first phase of the project, generating enough energy to power 45,000 homes per year, making it the state's largest wind farm. The economic impact has been substantial, generating nearly $87 million in revenue for the people of Utah.
The Wind Kids graduated from high school in 2007, some are now studying engineering and a few others now work for First Wind.
As they advance in their careers they can always take pride in bringing clean, renewable energy to Milford. Andy puts it this way, "We received all around support from the community, and believe me, we felt like we had won a state championship."