All across the country, businesses, nonprofits and local governments are seeing the benefits of investing in energy efficiency -- it saves money on energy costs and frees up funds for other uses. To take their energy efficiency investments to the next level, organizations are tapping into the innovative thinking of the nation's university students through the Energy Department's Better Buildings Case Competition.
Now in its third year, the Better Buildings Case Competition challenges the next generation of engineers, entrepreneurs and policymakers to devise actionable ways to cut energy waste and improve commercial building efficiency. Using real-world scenarios and data, university teams develop creative solutions for common energy efficiency problems that private-sector organizations and state and local governments could replicate. To date, university teams have presented 66 energy efficiency solutions to more than 21 businesses, organizations, agencies and governments.
But the case competition doesn't just benefit the case partners. It helps students gain the skills necessary for a career in clean energy. For many students, it provides them with tangible experience, teaches them how to work as a team and helps them bridge the gap between the classroom and industry.
In the case of John D'Agostino, who participated in last year's case competition, it even helped launch his career. As a member of Yale University's team, D'Agostino says his involvement in the case competition made him think creatively about how to finance energy efficiency improvements, and he credits it as the reason he has his job at the Connecticut Clean Energy Finance and Investment Authority, where he is helping apply insights from his team's case proposal.
With impacts like these, it's no surprise that the case competition keeps growing every year. This year, 30 university teams made up of more than 230 students -- more than double the number from last year -- will tackle six tough energy efficiency problems. University teams will present their ideas on March 14 to a panel of judges and will have the opportunity to build their clean energy networks to help take their careers to the next steps.
Learn more about the Better Buildings Case Competition and how it is helping meet the President's goal of making commercial and industrial buildings 20 percent more energy efficient in the next 10 years.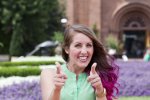 Rebecca Matulka
Served as a digital communications specialist for the Energy Department.Served as a digital communications specialist for the Energy Department.
more by this author