You are here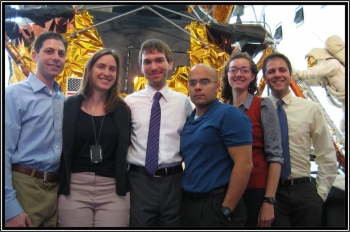 The Office of Energy Efficiency and Renewable Energy offers a variety of internships, fellowships, and scholarships in addition to the postdoctoral research awards. Current SunShot fellows pose in front of the Apollo Lunar Module at the National Air and Space Museum. | Energy Department file photo.
As football fans buzzed yesterday about national signing day for college football prospects, excitement also builds for picks from a different higher education talent pool.
On January 20th, the Energy Department announced two university research opportunities to advance the SunShot Initiative, a program which aims to dramatically decrease the total costs of U.S. solar energy.
Like football, research is a team sport, no matter how high-powered any individual player may be. In that spirit, the Energy Department is offering up to $10 million to partners in university-based projects to develop and demonstrate heat transfer fluids. The Multidisciplinary University Research Initiative: High Operating Temperature Fluids solicitation seeks applicants to develop innovative fluids that are more stable than current technologies at temperatures greater than 800 degrees Celsius. The goal is to improve the efficiency of concentrating solar power technologies and cut solar power costs.
The second opportunity is a second round for the SunShot Initiative postdoctoral research awards. The awards, administered by the Office of Energy Efficiency and Renewable Energy, provide an annual stipend as well as other benefits. Scientists from the program's first round are working on some impressive feats:
Neil P. Dasgupta, a Stanford Ph.D., is researching nanowire photovoltaics based on abundant, low-cost materials;

Brandon Q. Mercado, a University of California, Davis Ph.D., is investigating the design of

high performance semiconductor materials

; and

Sarah R. Cowan, a University of California, Santa Barbara, Ph.D., is working on research at the National Renewable Energy Laboratory.
So as others prepare for the pro ranks and shots at the Super Bowl, another crop of university stars can look forward to entering the big leagues of solar energy research. There, they'll be rubbing shoulders with top scientists at national laboratories and institutions. And across the country, university teams will line up to help tackle some of the biggest energy challenges facing the nation. That should give everyone something to cheer about.