You are here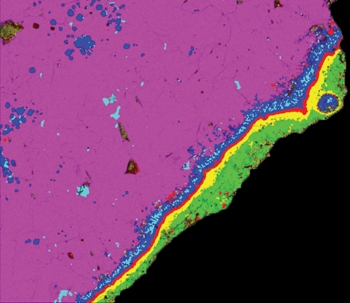 Compositional X-ray image of the rim and margin of a ~4.6 billion year old calcium aluminum refractory inclusion (CAI)
from the Allende carbonaceous chondrite. | Courtesy of Lawrence Livermore National Laboratory
Researchers at the Energy Department's Lawrence Livermore National Laboratory (LLNL) and NASA's Johnson Space Center are investigating tiny and ancient objects known as calcium, aluminum-rich inclusions (CAIs). CAIs formed some 4.57 billion years ago, while our sun was still young, and while the Earth was still taking shape. (Ancient life didn't appear on Earth for a billion or so years later.)
The CAIs traveled through what was then a solar nebula, a great cloud of dust surrounding the proto-Sun. They began accumulating stuff, or at least stuff began accumulating around them, in the form of pebbly chondrules, some of which grew up into asteroids and meteorites. Eventually, one of those aging objects found its way closer to the sun.
It only missed by a few months and a few thousand miles. Specifically, what became known as the Allende meteorite – chock full of carbonaceous (carbon-rich) chondrite – exploded and fell into Allende, Mexico on February 8, 1969. In the years since, scientists have studied the meteorite in search of truths about the solar system.
Recently, researchers at LLNL took at look at CAIs on the rim of a piece of the meteorite, using one of their most sophisticated tools known as NanoSIMS, a nanometer-scale secondary-ion mass spectrometer. Scientists used NanoSIMS' ability to analyze infinitesimal amounts of material – stuff on the scale of a billionths of a meter – to measure the amounts of two oxygen isotopes in the meteorites' layers. (Isotopes are heavier and lighter forms of the same element.) They found that the concentrations of those oxygen isotopes varied across the sample's CAIs. That variation showed that the CAIs also had a turbulent beginning, that they accumulated oxygen from a few different places over the course of their travels through the nebula that formed the solar system.
Those tiny grains help scientists explain how our own solar system grew up, and may tell us more about how planets form in other systems as well.
For more information on the DOE Office of Science, please go to: http://www.science.energy.gov/.