You are here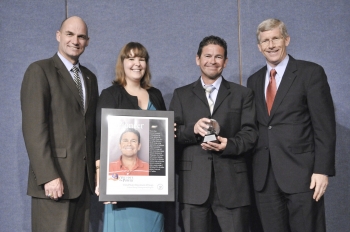 Under Secretary for Nuclear Security Tom D'Agostino, Sustainability Performance Office Director Jennifer MacDonald, Chris Evans and Deputy Secretary of Energy and Daniel Poneman at the 2011 Sustainability Awards. | Image courtesy of the Energy Department
Employees from around the country were honored at the 2011 Sustainability Awards last week for driving initiatives that reduce the Energy Department's use of energy, water and paper, cut down on its waste, and make our buildings and vehicles more efficient.
The 2011 winners helped improved the sustainability of Department operations across the complex. Through the construction of sustainable buildings, implementation of green purchasing, replacement of inefficient equipment, deployment of renewable energy projects, and other similar initiatives, the Department continues to reduce its energy use and greenhouse gas emissions and educate employees on best practices for sustainability.
All of these improvements saved taxpayer dollars. The sustainability initiatives spearheaded by the employees that were honored saved more than $4 million this year alone.
Deputy Secretary of Energy and Senior Sustainability Officer Daniel Poneman congratulated the winners in a ceremony at the Department's Forrestal headquarters. "Today's Sustainability Award winners are leading by example, showing what's possible when employees bring creativity, innovation, and dedication to their efforts to make the Department of Energy more sustainable," said Deputy Secretary Poneman. "Sustainability is not something extra.   It's at the core of our mission."
Deputy Secretary Poneman also had a special message for employees: "None of the people in here were looking to get an award. They were doing the right thing. So if it wasn't you this year, it will be you next year."

Sustainability Performance Office Director Jennifer MacDonald echoed the Deputy Secretary's thoughts:  
"These individuals challenged the status quo in order to advance our collective sustainability performance. Without their perseverance, the innovations and progress made toward our sustainability goals would not be possible," MacDonald said.
The Energy Department continues to make considerable progress toward its sustainability goals.  This past year, the Department reduced its energy use per square foot by 18.4 percent from the fiscal year 2003 baseline, while significantly cutting greenhouse gas emissions. The agency also reduced its water use per square foot by 12.2 percent from the fiscal year 2007 baseline, and used eligible renewable electricity equivalent to 9.2 percent of its total electricity use.
Department employees from multiple sites and offices were recognized, including: Argonne National Laboratory, Bonneville Power Administration, Idaho National Laboratory, Lawrence Livermore National Laboratory, Oak Ridge National Laboratory, National Renewable Energy Laboratory,  Pacific Northwest National Laboratory, the Pantex Plant, Princeton Plasma Physics Laboratory, Sandia National Laboratories, East Tennessee Technology Park, Savannah River National Laboratory, Savannah River Site, the Strategic Petroleum Reserve, Y-12 National Security Complex; Carlsbad and Golden Field Offices, Idaho and Richland Operations Offices, and the Department's Headquarters facilities.
 
In particular, the National Nuclear Security Administration was awarded for establishing a Green Fleet Team that decreased petroleum use by 12 percent and led to nearly $4 million in avoided costs in fiscal year 2010.
 
The Princeton Plasma Physics Laboratory also won for decreasing its fuel consumption. Employees at the Princeton, New Jersey facility were recognized for using B-20 as fuel for the first time in a John Deere Gator.
 
The National Renewable Energy Laboratory was a standout as well. The new state-of-the-art data center consumes 81 percent less energy than its predecessor, reducing greenhouse gas emissions by nearly five million pounds of carbon dioxide equivalent. The center is expected to reduce electricity costs by $200,000 every year. NREL also won the 2011 GreenGov Presidential Award for Green Innovation for its efforts.  
 
A more sustainable Energy Department also contributes toward the sustainability of the federal government as a whole.
 
In 2009, President Obama signed Executive Order 13514 on Leadership in Environmental, Energy, and Economic Performance, which called on the federal government to reduce its greenhouse gas emissions and implement aggressive energy and water efficiency programs.  In response, the Energy Department established sustainability goals in its annual Strategic Sustainability Performance Plan (SSPP) and established the Sustainability Performance Office.  The 2011 SSPP can be found here.
 
The full list and descriptions of the award winners can be found here.