You are here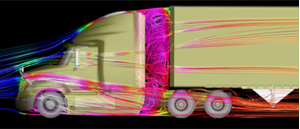 BMI corporation, of South Carolina, is using the Jaguar super computer at Oak Ridge National Laboratory to do complex pre-visualization and develop products to increase fuel efficiency for the trucking industry. | Department of Energy Photo | Courtesy of Oak Ridge National Laboratory | Public Domain
To strengthen our economy and win the future, President Obama is calling for investments in innovation and technology leadership.
Today's announcement from the Department of Energy is a perfect example of how these investments in innovation can create jobs and make America more competitive.
The Department's Jaguar Supercomputer at Oak Ridge National Laboratory is one of the fastest, most powerful machines in the world – roughly equivalent to 100,000 times the computational power of typical home laptop. We are making the supercomputer available to innovative companies – large and small – who are using it to develop and test new products that can be manufactured in the United States.
A small company in South Carolina and Georgia, the BMI corporation, has used the Jaguar to develop some aerodynamic components that can be attached to the undercarriage of a semi truck to reduce wind resistance. They used highly sophisticated computer modeling to simulate the airflow and optimize the design.
The result is a new product being manufactured in Georgia that will make semi trucks 7 to 12 percent more fuel efficient. The potential impact is huge – outfitting all of America's 1.3 million class 8 semi trucks with this kind of technology would save about 1.5 billion gallons of diesel fuel each year, meaning a savings of about $5 billion a year.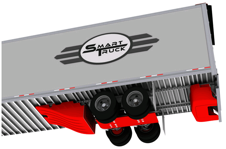 The company was able to use the supercomputer to dramatically reduce both the time and cost of moving from a concept to a specific design that was ready to be manufactured. Originally, the process was supposed to take 3 ½ years. With the partnership of the Department of Energy and the Jaguar supercomputer, they did it in 18 months.
In the process, they've developed a product that will create American manufacturing jobs, make trucking companies more competitive, cut costs for businesses across the country by making shipping less expensive, and reduce our dependence on foreign oil.
Not bad at all.