You are here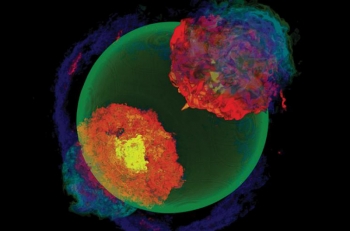 The ability to do 3D, large-scale simulations of supernovae, such as above, led to the discovery of an entirely new and unexpected explosion mechanism, termed the gravitationally confined detonation (GCD) model. Click here to view a slideshow of images. | Image: Courtesy Flash Center for Computational Science, University of Chicago
It's said that a picture is worth a thousand words. That's exponentially more true – in pixelations and calculations – for the crafted and complex images and simulations produced by Energy Department supercomputers through our INCITE program.
 
INCITE, which stands for the "Innovative and Novel Computational Impact on Theory and Experiment," is jointly managed by the Argonne Leadership Computing Facility and the Oak Ridge National Laboratory. The INCITE program awards billions of processor hours on some of our nation's best supercomputers to some of our nation's brightest researchers -- individuals committed to accelerating scientific breakthroughs and bringing real-world benefits to our citizens.
 
Recently, INCITE put out a special report highlighting 22 of its greatest hits and ways in which it is catalyzing discoveries and innovations. For instance, complex simulations of combustion are yielding insights to improve the fuel efficiency of engines, and detailed modeling of chemical processes is helping to pave the way to cleaner energy through a better understanding of electrical energy storage. INCITE simulations range from exploding stars to the San Andreas Fault; from the structure of large proteins to the molecular basis of Parkinson's disease; and from stressed-out materials to abrupt climate change.
Click here to view a slideshow of some of these simulations.
 
For instance, INCITE researchers have thrown new light onto the enormous star explosions known as supernovae, simulating how they detonate and what they illuminate. Their starry-eyed simulations have also shown more about the mysterious dark matter and dark energy that seem to make up most of the mass and energy the universe.
 
Researchers using INCITE supercomputers have also made many advances in the stuff that makes our bodies up, the important molecular machines known as proteins. INCITE simulations have determined the structure of many proteins, have suggested how misshapen proteins can lead to diseases like Alzheimer's, and even hinted at medicines that might be developed against them. Scientists have also used the INCITE program to model the molecular basis of Parkinson's disease, a neurological disorder that afflicts more than 2 million people in the United States.  
 
INCITE awardees have also used their supercomputer time to study stressed materials – how simple corrosion can lead to significant cracking and ultimate material failure in nickel-based alloys and silica glass, essential materials for advanced nuclear reactors and nuclear-waste management. The program's studies have aided the design of next-generation nuclear reactors; offered new insights into how to contain the exceptionally hot stuff known as plasma (for potential fusion reactors of the future); and even given scientists and engineers a better understanding of how concrete, the most widely used building material in the world, flows and takes form.
 
In all of these projects – and its many others – the INCITE program is providing outstanding researchers with time on the Department's supercomputers to achieve both scientific breakthroughs and social benefits. This year, INCITE will provide 57 awardees with 1.7 billion processor hours. And more are likely to be awarded in the next year.
 
Each study and simulation will lead to new insights... and hopefully lasting benefits.
Don't forget to check out the new INCITE report. And for more information on the Energy Department's Office of Science, please go to: http://science.energy.gov/.