You are here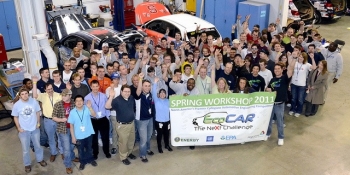 Participants in the EcoCar2 challenge gather for the spring workshop in Ann Arbor, Michigan.
The wait is over. After enduring a rigorous selection process, 16 teams have been chosen to compete in EcoCAR2: Plugging into the Future— a three-year college student competition in which teams are given a car and then asked to use their engineering skills to minimize the vehicle's fuel consumption and reduce emissions while retaining the vehicle's standard level of performance, safety and consumer appeal.
Earlier this week, I was there as David Sandalow, the U.S. Department of Energy's Assistant Secretary for Policy and International Affairs, and Karl Stracke, GM's Vice President of Global Vehicle Engineering, announced the vehicle platform and participating schools in EcoCAR2. All of the teams will begin with a brand-new Chevrolet Malibu, donated by General Motors. They will then follow a real-world engineering process modeled after GM's Global Vehicle Development Process (GVDP) to re-engineer the vehicle for their advanced vehicle design. Some of the students were there for the announcement, and they were pumped! Through this competition and their studies, they will become highly sought after graduates who are ready to help the automotive industry design the vehicles of the future.
EcoCAR2 will have both new teams and returning veterans to the competition. The teams are…
Colorado State University
California State University, Los Angeles
Embry-Riddle Aeronautical University
Mississippi State University
North Carolina State University
The Ohio State University
Pennsylvania State University
Purdue University
Rose-Hulman Institute of Technology
University of Ontario Institute of Technology
The University of Tennessee, Knoxville
University of Victoria
University of Washington
University of Waterloo
Virginia Polytechnic Institute and State University
Wayne State University
General Motors, the Department of Energy and a number of other sponsors have joined together to help prepare future engineers for opportunities in clean energy and advanced vehicle industries. Joining us for EcoCAR2 are Natural Resources Canada, MathWorks, California Air Resources Board, Clean Cities, dSPACE, A123 Systems, Freescale Semiconductor, AVL Powertrain Engineering, Snap-On Tools, Robert Bosch, Siemens PLM, CD-Adapco and VectorCANtech. These sponsors provide students with access to hardware, software, training, and other resources that may be otherwise unavailable. EcoCAR2 is one piece of the Department's broad commitment to educate the next generation of American innovators and support America's transition to a more efficient transportation sector.
I want to congratulate the 16 selected teams – the anticipation of all the ingenuity and hard work that will go into building these advanced vehicles over the next three years is very exciting.