You are here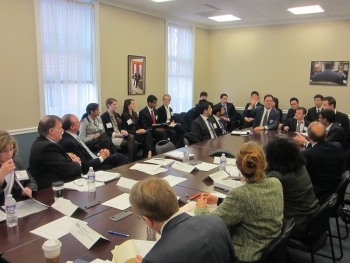 Student teams present their ideas for improving commercial building efficiency before a panel of commercial real estate and energy experts. | Photo courtesy of Jessie Knapstein, the Energy Department.
Every year, the U.S. spends about $200 billion to power our office buildings, shopping mall and stores. Yet, about 30 percent of this money is wasted. Hoping to tap the creative thinking of the nation's university students, the Energy Department launched the Better Buildings Case Competition. Last week as part of the second annual competition, some of the country's brightest young minds presented their ideas on ways to cut energy waste and improve commercial building efficiency.
This year, 14 university teams -- made up of undergraduate and graduate students with backgrounds in business, engineering, public policy and urban planning -- tackled four of the toughest knots in energy efficiency. Using real-world scenarios and data, students had two months to develop innovative solutions for common efficiency challenges -- from creating a plan for early retirement of equipment to justifying and installing metering to designing financial models that municipalities can use to improve their own buildings -- that real-world private-sector organizations, and state and local governments could replicate.
Following team presentations on Friday at the White House Campus, panels of commercial real estate and energy experts chose winners for each case study based on two categories -- best proposal and most innovative. Check out a summary of the case studies and the winning proposals below.
City of Fort Worth: This case study required students to develop plans to help Fort Worth work with local utilities and industry to achieve the city's Better Building Challenge goal of making commercial and industrial buildings 20 percent more energy efficient by 2020.
Best Proposal -- Massachusetts Institute of Technology
The team's recommendations targeted three priority building sectors through expanded energy data infrastructure, community-based social marketing and greater access to finance programs.
 
Most Innovative -- Carnegie Mellon University 
The team's recommendations integrated zoning characteristics with market sector analysis and inventive outreach approaches in schools.
Energy Efficient Buildings (EEB) Hub: This case study asked students to examine strategies for the EEB Hub to help Montgomery County, Pennsylvania, complete a renovation of a publicly-owned, multitenant office building that achieves significant energy savings.
Best Proposal -- Yale University
The team's proposal leveraged Montgomery County's parking assets to finance a whole building energy retrofit, and raised the value and appeal of the building by modernizing the office space.
 
Most Innovative -- University of California-Santa Barbara 
The team's comprehensive strategy established the Hub as a one-stop-shop for implementing an integrated design approach that leads to greater energy and cost savings.
"Everything Store": Representative of several retail stores including Kohl's, Staples and Target, the "Everything Store" case study challenged students to develop criteria for selecting among potential options to increase cooling efficiency in big box retail stores by upgrading rooftop unit technology.
Best Proposal -- Carnegie Mellon University
Using modeling software to identify energy and cost savings opportunities, the team created a detailed implementation plan with a unique leasing structure to rapidly deploy rooftop unit replacements. 
Most Innovative -- Massachusetts Institute of Technology
The team engaged the retailers' customers as part of the solution -- creating an effective branding and incentive program that could be deployed as part of broader storewide energy efficiency measures. 
U.S. General Services Administration: This case study asked teams to create strategies for energy metering and measurement to meet federal savings goals in government buildings across the United States.
Best Proposal -- Yale University
The team recommended a holistic approach including implementing a cutting edge energy management software platform, expanding leasing and contracting options for different types of spaces and creating friendly competitions among buildings.
 
Most Innovative -- University of Chicago 
The team developed a decision-making tree and timeline for installing energy consumption metering systems throughout the GSA portfolio, along with a strategy to utilize the data to identify energy saving opportunities.
The Better Buildings Case Competition is part of the President's Better Buildings Initiative, which aims to make commercial and industrial buildings 20 percent more energy efficient by 2020 and accelerate private sector investment in energy efficiency. Visit the Better Buildings Initiative site to learn more about the different programs helping to meet these goals.