You are here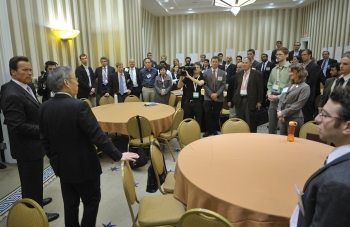 Secretary Chu and former Governor of California Arnold Schwarzenegger speak with students at the 2011 Energy Innovation Summit. | Photo courtesy of ARPA-E.
Words like "biofuels" and "power electronics" usually conjure up images of labs and power lines, not biology class. But what better place is there to start innovation than in the classroom? The Department's Advanced Research Projects Agency-Energy (ARPA-E) fosters this philosophy during the annual Energy Innovation Summit. This year, from February 27 to 29, students will have the chance to attend the Summit and participate in a special student program that will facilitate networking and give students the chance to begin the innovation process early.
According to ARPA-E's Student Program Coordinator Shannon Yee, "The Student Program is a unique opportunity for student energy club leaders throughout the nation to gather, share best practices, and engage with policy makers, entrepreneurs, scientists, and engineers all working on deploying the next generation of energy technologies." 
The Student Program is organized by the Collegiate Energy Association, which selects a highly qualified and diverse group of students from universities across the country to attend the Summit. Key events include a meet-and-greet with keynote speakers and networking events with other Summit participants. In addition, the Technology Showcase will feature an Energy Club booth that will highlight student participants and provide information on student-led energy events from around the nation. These student initiatives can have a real impact on advancing clean energy technologies.
For example, ARPA-E supported students at the University of Washington recently won the grand prize in the International Genetically Engineered Machine Competition, or iGEM. The competition, which began in 2004, pits undergrads from schools across the globe against one another in a challenge to build simple biological systems that can exist in living cells. This year's competition was comprised of 160 teams from 30 countries, and was the first time a U.S. team won the grand prize.
The University of Washington team included 23 students who produced two winning projects: the first project produced an enzyme that helps humans digest gluten and the second project an enzyme to put into bacteria to create diesel fuel from sugar. This project expanded on an existing clinical trial to create diesel fuel from sugar and E. coli. ARPA-E provided funding for the students to enter the competition, giving them access to various genetic tools and a chance to compete. The team's findings tie into the greater goal of the Electrofuels program, which is to develop new ways to produce fuel that are compatible with the current infrastructure, by using microorganisms to harness chemical or electrical energy to convert carbon dioxide into liquid fuel.
Summit student participants will gain exposure to the Electrofuels projects, as well as almost 300 other booths showcasing cutting-edge technologies. It's impossible to tell what this exposure may inspire, but projects such as those by the University of Washington team prove that student work not only matters, but can have a substantive effect on progress toward creating a clean energy future.
Learn more about this year's Energy Innovation Summit at www.energyinnovationsummit.com. Students can apply to participate in the Student Program here.