You are here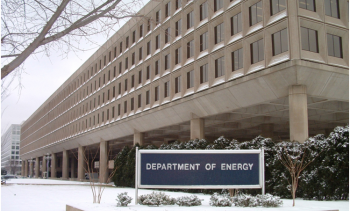 Department of Energy headquarters during the winter months. | DOE file photo.
Editor's note: This article was originally posted on Benefits.gov.
As the days get shorter and temperatures get cooler, those energy bills seem to just keep going up.
The average American spends around $2,000 per household on energy costs each year according to the Energy Department -- and about 45 percent of those costs are heating-related. But did you know that there are many simple things you can do to lower your energy bills this winter?
Earlier this year, the Energy Department launched Saving Money by Saving Energy (also on Facebook), a national campaign dedicated to educating citizens on energy usage and ways to save on utility bills.
Below are just a few of the suggested tips that can help you lower energy costs. Learn about even more ways to save by downloading or ordering a freecopy of the Energy Savers Booklet.
Look for the ENERGY STAR label on 

home appliances

 and products. (Note: Be sure to check out 

products recognized as the ENERGY STAR Most Efficient in 2011

.)
Upgrade traditional 

light bulbs

 for your home. Upgrading 15 light bulbs could save you about $50 per year.
Turn off your computer and monitor when they're not in use and plug 

home electronics

, such as TVs and DVD players, into power strips that can easily be turned off when the equipment is not in use.
Lower the thermostat on your 

water heater

 to 120°F.
Clean warm-air registers, baseboard heaters, and radiators as needed to ensure they're not blocked by furniture, carpeting or drapes.
Identify air leaks in your home and seal them with 

weatherstripping

.
Some of these simple changes can also make you eligible for certain tax credits and rebates. The Rebates, Tax Credits and Financing page on EnergySavers.gov provides information on the many financial incentives and benefits you could receive for increasing your energy efficiency.
If you are a senior citizen or you know someone who needs assistance this winter, read about the low and no-cost tips to help seniors stay warm on the Energy Savers Blog. For additional assistance, the Energy Department offers the Weatherization Assistance Program for Low Income Persons, and the Department of Health and Human Services (HHS) offers the Low Income Home Energy Assistance Program (LIHEAP) for those who need help with energy-related costs.
To find out if you are eligible for these and over 1,000 forms of government assistance, use our simple and confidential Benefit Finder by clicking "Start Now" on the Benefits.gov homepage.