You are here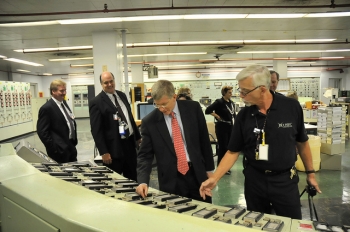 Deputy Secretary Daniel Poneman observes instrumentation in the X-333 Process Building Control Room during his visit to the Portsmouth Gaseous Diffusion Plant. | DOE photo
Last week, I returned to my home state of Ohio to mark a milestone in the Department's efforts to clean up our environmental legacy: the start-up of operations at the Depleted Uranium Hexafluoride Conversion Plant, or DUF6, as we commonly call it.
Depleted uranium hexafluoride has been generated in the United States since the mid-1940s as a byproduct of enriching uranium for both civilian and military applications at three gaseous diffusion plants located near Oak Ridge, Tennessee; Paducah, Kentucky; and Piketon, Ohio. Two of those plants -- at Oak Ridge and Piketon -- have now been shut down, while the third has been leased to the U.S. Enrichment Corporation, which still uses it to enrich uranium for use as fuel in commercial reactors.
The DUF6 facility will convert more than 250,000 metric tons of this depleted uranium hexafluoride into a safer form for reuse or disposal.
For decades during the Cold War, the people of Ohio stood by the Nation, and now we are standing by them and meeting our responsibility to clean up the environment.
In addition, this cutting-edge nuclear facility will provide 160 high-quality jobs for the next 18 years for Southern Ohio and keep the state at the forefront of the Nation's nuclear enterprise, as it has been for more than half a century. In fact, Nobel Laureate Arthur Compton, who monitored Enrico Fermi's effort to create the world's first controlled nuclear chain reaction, came from Wooster, Ohio. On a personal level, I got my start in nuclear issues working for former Senator John Glenn, a great American who has served the Nation with great valor and distinction in times of war and peace.
Nuclear energy has a vital role to play in our low-carbon future, which is why we are working hard to reinvigorate our domestic nuclear industry – to create thousands of new jobs, promote American leadership in the nuclear field, and curb carbon pollution. The DUF6 facility will advance our scientific expertise and technological know-how in the nuclear sector.
Last Thursday was an important day for the Department of Energy, for the state of Ohio and for the Nation. Congratulations to everyone who worked so hard to make it possible.