You are here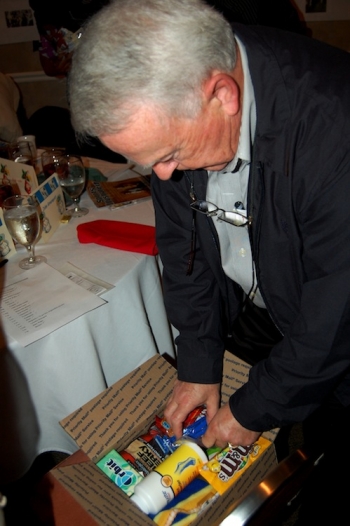 Staffers fill holiday boxes for soldiers overseas.
A request for razors from a U.S. Army private serving in Afghanistan transformed into a full-scale holiday gift rescue operation by employees of the Savannah River Site's liquid waste contractor, Savannah River Remediation (SRR). The soldier's stepmom helped rally the "troops" in her office to send him and other soldiers some Christmas cheer.
"My stepson's unit is responsible for protecting an Army base far from any city and in a mountainous area of Afghanistan," the SRR Finance and Business Administration employee told her colleagues. "We would get letters from him indicating a need for just the basic health and hygiene items. When our group came up with the idea of sending Christmas boxes, I knew it would mean a lot to him and his fellow soldiers."
SRR Finance and Business Administration employees adopted the soldiers after learning of the private's request. During their Christmas party, the co-workers filled100 boxes with toiletries, snacks, magazines and personal notes to be shipped to members of an Army unit stationed in a remote area of Afghanistan.
"We hope that our personal notes express our appreciation for their service to our country, especially during the holidays," said Sandra Fairchild, SRR Finance, Administration and Business Services Manager. "We hope the items we included provide some of the comfort of home."