You are here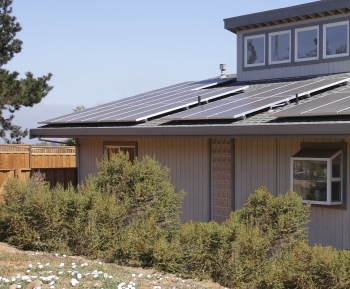 Sunrun is a home solar installation company based in San Francisco. | Photo by Francis Fine Art Photography.
Our Solar Industry At Work Series shares the personal success of America's solar workforce – from finance experts, to scientists, to engineers. You can learn more about the series here.
Tillie Peterson works at Sunrun – a startup with an innovative approach to home solar installation. The company owns, insures and maintains solar panels for customers so homeowners avoid high installation costs.The innovative business model is helping make residential solar an affordable, accessible option for more people.
In her role as Director of Operations, Tillie helps make Sunrun's installation process streamlined and efficient – so that homeowners can get solar panels up and running as simply and quickly as possible. Here, Tillie shares what it's like to work at a solar startup, how a stint at Google Books helped prepare her for her current role, and a few words of career advice for students.
Describe your role as Director of Operations at Sunrun?
I joined Sunrun to help the company streamline and automate the solar installation process in order to continue to drive down the cost of solar.  More specifically, this means overseeing the part of "going solar" that happens once someone decides to power their home through Sunrun until the system is actually installed. 
What projects are you working on right now?
A major cost reduction opportunity in solar is the removal of what we call soft costs, which are non-technology costs.  For example, inconsistencies in solar permitting are a significant soft cost – about $0.50 per watt, or $2,516 per residential install. One project I have underway right now is to streamline and automate the project processing pipeline so Sunrun and our partners can get solar systems up and running for homeowners as quickly as possible.
What's the work environment like at Sunrun?
In one word – and no pun intended here – energetic.  Sunrunners show up to work excited about the impact they are having on the world. That is a game-changer and it creates constant excitement in the work place. 
What's your career/education background? How did that help prepare you for your current role?
Prior to Sunrun I worked at Google and implemented the plan, processes and resources for the book digitization process, Google Book Search.  I had similar project management responsibilities before Google at Stanford University and Sun Microsystems.  At Sunrun I am applying my experience in taking a complicated process with multiple steps and making it as streamlined as possible to help deliver solar that's simple and affordable for homeowners like me.  I get to use my passion for operational efficiency to improve the planet, and that feels good.
What are some of the challenges you face in your current role at Sunrun?
When I decided to make the switch to Sunrun I knew this job would be complex because delivering energy to thousands of homeowners – and building the infrastructure that could eventually serve millions – is no small task.  I may have underestimated that complexity, but I see that as an opportunity.  This industry has a lot of moving parts, which makes it challenging, but also fun and exciting.
What advice do you have for students and early careers interested in following a similar career path?
Find a job that gets you excited to wake up and come to work in the morning. I think the solar industry is a great avenue for that.