You are here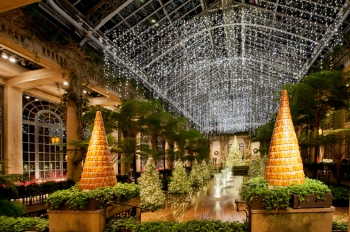 This is part of the holiday light display at Longwood Gardens in Pennsylvania's Brandwine Valley. This year, they commissioned an American-made 1.2 megawatt, 10.7-acre solar field as part of their goal to generate three megawatts of renewable energy by 2018. | Photo courtesy of Longwood Gardens/W. Hill
One of the most visited public gardens in the United States, and a popular attraction for elaborate holiday decorations, is now running on solar power thanks to help from the Energy Department.
Longwood Gardens, located in Pennsylvania's Brandywine Valley, has commissioned an American-made 1.2 megawatt, 10.7-acre solar field as part of a goal to generate three megawatts of renewable energy by 2018. Once achieved, this solar power will provide 100 percent of Longwood's electrical needs on a sunny day.
Phase one of the project was funded in partnership with a $1.3 million grant from PA Green Energy Works, using Recovery Act funds from the Energy Department's State Energy Program.  With phase one completed on June 16, the solar field is one of the largest examples of clean, emission-free energy in the region, reducing Longwood's annual carbon dioxide emissions by 1,367 tons. Phase one is also tied to the power grid, and produces electricity equivalent to what's necessary to power approximately 1,500 homes.
Longwood Gardens is measuring ecological impact to develop sustainability strategies to reduce energy consumption, reduce waste and conserve water. In addition to offering 1,077 acres of gardens, woodlands, and meadows, Longwood also offers 20 outdoor and indoor gardens within four acres of heated greenhouses. Longwood also has extensive educational programs including horticultural career training, internships and performing arts events each year.  


Visitors flock to the garden during the holidays to see their landmarks decorated in gingerbread and adorned in ornaments. Check out longwoodgardens.org for more information on Longwood's environmental mission or to find out how you can visit their holiday display.