If the U.S. Department of Energy Solar Decathlon -- a two-year competition among university teams to design, build and operate solar-powered houses that are affordable, energy-efficient and attractive -- wasn't challenging enough, one team decided to up the ante by turning its demonstration house into a permanent, two-family home in Washington, D.C. Today the team, along with project partners and community members, celebrated the completion of this three-year-long project and welcomed the future homeowners to their new homes.
Right from the very beginning of the competition, the Empowerhouse team -- composed of students from Parsons The New School for Design, the Milano School for International Affairs, Management and Urban Policy at The New School, and Stevens Institute of Technology -- decided on a community-based approach to creating affordable ultra-efficient solar housing. To make this a reality, the team partnered with Habitat for Humanity of Washington, D.C., and the D.C. government to build Washington's first passive house. The highest energy standard, a passive house consumes 90 percent less energy than a typical home.
In addition to following competition guidelines, the Empowerhouse team also had to take into account neighborhood and city codes when building its 900-square-foot, two-bedroom, one-bathroom demonstration house. The students' hard work paid off, and the team tied for first place in the Affordability Contest. 
After the competition, students worked with DC Habitat to ensure their vision was realized. The demonstration home was moved to the historic Deanwood neighborhood in the District's Ward 7, and a second story was built, expanding it to a 1,300-square-foot, three-bedroom, two-bath home. Alongside it, DC Habitat and its volunteers built a matching house, making it a two-family home. The construction process was so affordable that in June, DC Habitat announced it was breaking ground on six new energy-efficient townhomes in the Ivy City community that use the Empowerhouse team's passive house design standards.
Throughout the entire process -- from the start of the Solar Decathlon competition to the finishing touches on the homes in Deanwood -- students have worked to make sure their Solar Decathlon entry wasn't just a case study, said Orlando Velez, who worked on the project as a graduate student and then was hired full time by The New School after graduation as operations director of the Empowerhouse Project. They held community workshops on sustainable development and green living, worked with the future homeowners on eco-friendly landscaping and rain gardens, and developed a homeowner's manual to ensure the new families make the most out of their new energy-efficient homes. "The beauty of this project is we are creating a home, not just an exhibit space," said Velez.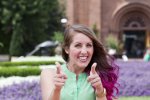 Rebecca Matulka
Served as a digital communications specialist for the Energy Department.Served as a digital communications specialist for the Energy Department.
more by this author