Get pumped! Today, the U.S. Department of Energy Solar Decathlon 2015 officially started! The competition, which runs now through October 18, challenges collegiate teams from around the world to design, build, and operate solar-powered houses that are cost-effective, energy-efficient and beautiful.
You've met the teams, now it's your turn to play the role of Solar Decathlon judge by voting for your favorite house. Go to energy.gov/fanfavorite to cast your vote! Voting ends Sunday, October 18 and the winning team will be revealed Tuesday, October 19.
Also, head over to Twitter for live tours of Solar Decathlon houses via Periscope on our @Energy account throughout the competition and check out #SD2015 for updates from the event. Can't get enough Solar Decathlon? Go to energy.gov/solardecathlon for photos, video and more!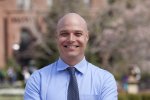 Paul Lester
Paul Lester is a Digital Content Specialist in the Office of Public Affairs. Paul was born in Ohio but spent most of his life in Florida, where he worked as news researcher/archivist and online editor for the Orlando Sentinel.
more by this author