You are here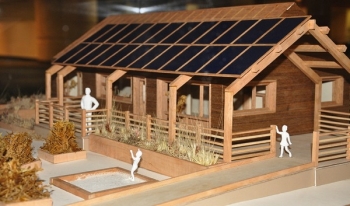 An energetic group of university students from New Zealand to North Carolina are a huge draw at this year's International Builders' Show in Orlando, Florida.
The students are preparing for the U.S. Department of Energy Solar Decathlon – a competition that challenges 20 collegiate teams to construct and operate solar-powered homes that incorporate energy-saving designs. On Thursday, the teams' scale models, which have been on exhibit throughout the week, attracted increased attention from green builders and show visitors during "Green Day" at the International Builders' Show.
While the design inspiration for the houses ranges from the architecture of ancient Greece to the homes of the American frontier, the technologies and engineering approaches are decidedly modern. In addition to photovoltaic and passive solar techniques, the teams are incorporating a wide range of energy efficient and renewable energy technologies. All of the houses will employ high-efficiency technologies, such as state of the art insulation and windows, next-generation lighting, advanced temperature controls, and energy monitoring systems. The teams will also focus on affordability and sustainability – many of the homes are designed to collect and reuse rainwater and others will use reclaimed wood and building materials.