You are here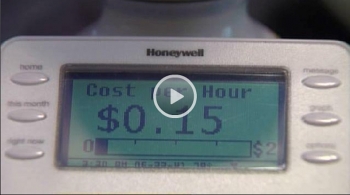 Houston resident Ruth Diorio explains to KPRC Local 2 News how much she's saved with her recently installed smart meter, which allows her to see her savings in real time.
"Instant gratification" from a smart meter? So raves Houston homeowner Ruth Diorio to KPRC Local 2 News. Diorio has already seen the financial benefits of her recently installed smart meter, which allows her to see her savings in real time.
"I've realized that I can save $10 to $20 a month by moving the thermometer one or two degrees," said Diorio, who can watch her hourly energy rate on a monitor and see the increases and decreases as she turns on and off appliances throughout the house.
During these hot summer days, Diorio can see directly how much running her air conditioner costs her: by turning off her air conditioner, her cost of electricity drops from 65 cents an hour to just 13 cents.
Diorio received her smart meter last fall through a CenterPoint Energy pilot program. In February, CenterPoint Energy in Houston became the second Smart Grid Investment Grant program recipient, funded by the Energy Department, to install one million smart meters (the first was Florida Power & Light) on its way to installing 2.2 million in the Houston-area service territory. The CenterPoint project is the one of the largest of the Energy Department's Office of Electricity Delivery and Energy Reliability's (OE) 99 Recovery Act SGIG projects.
Smart meters are just one of the advances we are making to modernize our electric grid for the 21st century and compete in the global economy.
Watch the video and find out how smart meters can give customers information on their energy use, which can help them lower their electric bills.