You are here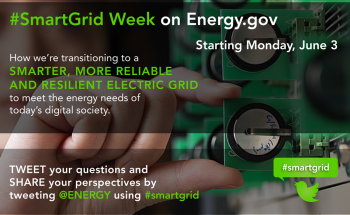 Introducing Smart Grid Week. | Photo courtesy of Pacific Northwest National Laboratory.
Our new Energy.gov series, Smart Grid Week, highlights efforts happening across the country to build a more reliable, resilient and secure electric grid. Throughout the week share your own perspectives and ask questions about the smart grid via Facebook, Twitter, Google+ and email.
Today we're launching Smart Grid Week -- a new series that sheds light on efforts to modernize the nation's electric grid. Over the next few days, we'll be sharing details on the progress we've made in establishing the 21st century electric grid and the work that lies ahead.
Our aging electric infrastructure relies on the same basic technology that was first deployed more than a century ago -- back when Grover Cleveland was President.  While considered an engineering marvel -- the electric grid hasn't seen substantial upgrades since just following World War II and is subject to brownouts and blackouts that cost our economy billions of dollars each year.
Over the past few years, making the transition to a 21st century grid has been a top priority. Boosted by Recovery Act investments of $4.5 billion to enhance the efficiency and effectiveness of our electrical infrastructure, the promise of a smarter, more resilient grid is becoming a reality.
Here are a few key ways the transition to a 21st century grid is making an impact:
Empowering Consumers: With a 21st century grid, we can deploy smart meters, smart appliances and other energy monitoring tools that help consumers to better understand their energy use. Providing this simple information on energy usage can lead to 5 to 15 percent in energy savings.
Improving Grid Reliability: All across the country, utilities, transmission operators and electric co-ops are deploying new technologies and tools to increase the reliability and resiliency of the grid. These substantial upgrades are resulting in fewer outages and faster power restoration when outages occur.
Integrating Clean Energy Sources: Recovery Act investments in advanced technologies -- including innovations in energy storage and new tools to measure and monitor energy flow -- are enabling us to incorporate more renewable energy sources onto the grid. This means more widespread use of wind and solar to power American homes and businesses.
Creating Jobs: Recent analysis finds that grid modernization investments have supported at least 47,000 jobs across a variety of sectors -- including computer systems design, technical and scientific services and consulting, and electrical equipment and component manufacturing.
Boosting Innovation: A modernized electric grid provides a platform for private sector innovation. Entrepreneurs are stepping up to the plate – utilizing open data to develop new products, tools and mobile applications that improve grid operations and help consumers make informed decisions about their energy consumption.
Enhancing Grid Security: As new threats to energy delivery systems continue to evolve, we will remain focused on the continued development of cybersecurity capabilities to protect the reliability and resilience of the grid.
What are your thoughts on efforts to transform the nation's electricity grid? Share your own perspectives and ask questions via Facebook, Twitter, Google+ and email.