You are here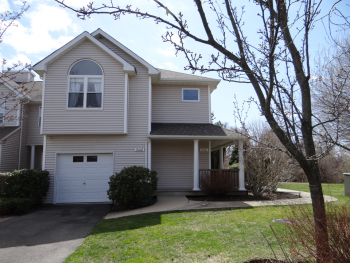 Located near the Long Island Sound, Deborah Wetzel's condo is cold and drafty eight months out of the year. A home energy audit and small energy efficiency upgrades helped Wetzel improve the comfort of her home while saving money on energy bills. | Photo courtesy of Deborah Wetzel.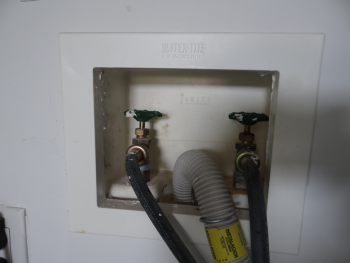 Wetzel made small energy efficiency changes -- like sealing air leaks around her washer and dryer hookups -- and is seeing big results on her energy bills. | Photo courtesy of Deborah Wetzel.
While a home situated close to the water might be a selling point for many, in the winter it can be a challenge for Deborah Wetzel, who lives in a condo near the Long Island Sound. For eight months out of the year, the wind whips off the Sound, making her home cold and drafty. So when Wetzel saw an energy efficiency flyer in her monthly energy bill, she jumped at the chance to improve the comfort of her home and lower her bills.
Working with her local utility -- the Long Island Power Authority (LIPA) -- Wetzel contacted one of the preapproved contractors certified to conduct a comprehensive home energy audit. After assessing insulation levels, inspecting Wetzel's combustion equipment and appliances, and conducting a blower door test to find air leaks, the auditor was able to give Wetzel a full picture of where her home was losing energy and the improvements that would help her save energy. For Wetzel's home, the auditor determined that adding more insulation to the attic and making mostly small improvements would have the largest impact.
Wetzel made some of the suggested improvements -- like putting plugs in the outlets on the outside walls, sealing air leaks around her washer and dryer, adding weatherstriping around the opening to her attic and sealing up an unused fireplace -- herself at little or no cost. For other upgrades -- like adding attic insulation and air sealing throughout her home -- Wetzel hired a certified contractor to do the work. As part of an energy efficiency program, LIPA and New York State Energy Research and Development Authority offered a partial rebate, helping Wetzel offset the costs of the upgrades.
"Getting the partial rebate helped me decide to make the energy efficiency upgrades," said Wetzel. "But I also plan on keeping my home for a long time, so it was worth the investment to make my home more comfortable and draft free."
Since completing the upgrades almost 18 months ago, Wetzel has definitely noticed a difference. Not only is Wetzel's home less drafty in the winter and more comfortable during the summer, the upgrades also helped lower her energy bills. The upgrades helped Wetzel reduce her energy costs by more than 15 percent -- or $30 a month. At this rate, Wetzel's energy efficiency improvements -- which only cost her about $1,300 -- will pay for themselves in a little more than 3 ½ years.
Are you are looking for ways to cut your energy bills like Deborah Wetzel? Join us on April 22 at 3 pm ET for a home efficiency Google+ Hangout. Energy efficiency and renewable energy experts from the Energy Department will answer your questions on ways to improve your home's comfort while saving money.