This week, people from all sectors of the energy industry -- from renewables and fossil fuels to utilities and clean energy startups -- gathered in New York for the first-ever New York Energy Week. Through a series of industry-generated events, New York Energy Week aims to drive energy innovation by encouraging collaborations across the different parts of the energy industry -- collaborations that will be necessary to move our economy towards cleaner, more efficient forms of energy.
New York Energy Week is a great showcase of new, innovative technologies, and here at the Energy Department, we were able to take part in a couple of the week's events.
On Wednesday, the Department sponsored the Energy Data Jam, an event that was hosted by Google. A continuation of work that started with Energy Datapalooza in June 2012, this week's event was the fourth and final Energy Data Jam of the year. The New York Energy Data Jam brought together business leaders, entrepreneurs, state and federal officials, academics and investors to brainstorm new ways to use the government's open data to solve some of the world's most pressing energy problems. Ideas include prioritizing and standardizing data, using electric vehicles to store power and provide it back to the grid during peak times, and new ways of investing in niche markets.
Later in the week, Advanced Research Projects Agency - Energy (ARPA-E) Deputy Director Cheryl Martin spoke at a demonstration of two low-cost zinc-anode rechargeable batteries that have the potential to change the way the U.S. produces, stores and uses energy. Developed by the City University of New York (CUNY) Energy Institute with funding from both the Energy Department and ARPA-E, the batteries have a high energy density, a long lifetime and are cost-competitive with energy produced from traditional generation -- opening up the growing market of grid-scale electricity storage. NYC startup Urban Electric Power spun out of the CUNY Energy Institute to take the batteries from the lab to market and is building a pilot-scale manufacturing facility in Harlem, where the batteries will be assembled. In addition to supporting renewable energy generation -- like wind and solar -- for future use in the grid, the batteries can be used by companies to lower their peak energy demand and cut energy costs -- a term known as peak shaving.
Browse through the slideshow above to see highlights from our time at New York Energy Week and some of the cool technologies on hand.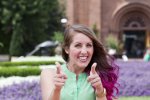 Rebecca Matulka
Served as a digital communications specialist for the Energy Department.Served as a digital communications specialist for the Energy Department.
more by this author