You are here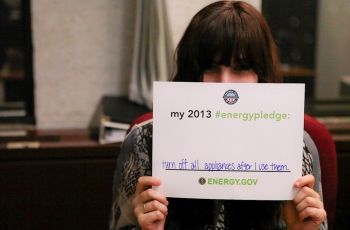 Download your own pledge card and submit a photo -- you might see yourself on energy.gov/pledge! Here, Amanda pledges to turn off all appliances when she's not using them to save energy. | Energy Department photo.
What are your energy resolutions for 2013? Be part of the National Day of Service on Saturday, Jan. 19 by making an energy pledge and sharing it with us using #energypledge on Twitter or emailing newmedia@hq.doe.gov.
So far, we've received all kinds of energy pledge submissions – from pledging to save gas by biking to work, to turning off the lights when leaving the room. One Energy Department official committed to buying Energy STAR appliances, and another vowed to switch from CFL bulbs to the more energy efficient LED lights.
Having trouble thinking of an energy pledge? This infographic should give you some ideas on easy ways to save energy and money around your home.
If you'd like, download your own energy pledge card. Fill it out, take a photo of you and your pledge and send to us. We'll feature some of our favorites next week on energy.gov/pledge.
Stay tuned to energy.gov for a video of some familiar faces from around the nation's capital pledging to do their part for energy on this Day of Service (and the rest of the year).