You are here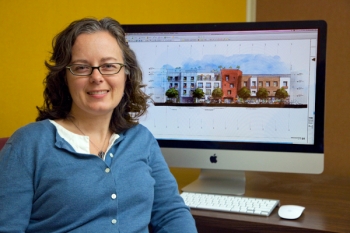 Cindy Regnier, low-energy building designer
After 13 years of working in the private sector as a designer of low-energy buildings, Cindy Regnier felt that she wanted to have a bigger impact. Making a single school or data center or housing complex more energy efficient was satisfying, but Regnier wanted to influence things on an even greater scale.
When the Department of Energy started announcing last year ambitious Recovery Act-funded programs to promote energy efficiency in the building sector, which accounts for 40 percent of energy consumption in the U.S., Regnier decided she wanted to be involved. "This is an unprecedented program for DOE, with great potential to enable real change" she says.
Regnier, who has a background in mechanical engineering and design expertise in HVAC (heating, ventilation and air conditioning), joined the Lawrence Berkeley National Laboratory last year and works on several projects, including two that are Recovery Act-funded: the new User Facility for Low-Energy Integrated Building Systems test bed and the Commercial Building Partnerships initiative, which is being co-managed with the National Renewable Energy Laboratory and the Pacific Northwest National Laboratory.
In the latter project, she is helping to select dozens of new and existing commercial building projects from around the country to receive technical assistance from the national labs to achieve 50% energy savings in new construction and 30% in existing buildings. Each building will have energy-savings measures validated and evaluated from energy and cost standpoints, all with the goal of developing and promoting energy efficiency measures that can be easily deployed throughout the industry.
"I feel strongly that this is a good opportunity to support the adoption of energy efficiency both within the design community and with building owners and operators, and expose them to some energy efficient practices they might not otherwise have tackled," she says. "It's an immediate education for them, and ultimately, I'm confident we can improve industry's ability to make buildings more energy-efficient."
Andy Oare is a New Media Specialist with the Office of Public Affairs.