It's a pleasure to be back again this year, as last year was terrific.  And as I'll say later on, last year I saw my very first fuel-cell vehicle here.  And, as we'll talk about, it was a pretty big year for progress in the fuel-cell world.
I was thinking of my own earliest experiences with cars and I just realized a word from the past, the Nash Rambler, if you can believe it or not. It was my first car, followed by a Ford Falcon that seemed to run forever.  Of course, I was eyeing, you know, the T-Birds and the  Corvettes, but those were a little bit beyond my means at that time.  But coming back here, the words "all of the above" are used.  We use them in terms of all of the above in terms of energy sources, but all of the above in terms of autos is also, I think, a great, great story and one that I hope to see here.
I think, of course, one of the important stories – and the President has been talking about it recently quite a bit – is the pleasure not just of seeing cars here, but of the recovery of our auto industry over these last five, six years or so.  Clearly, the Administration and the President launched a major initiative of financial and technical support because this industry is so central to our economy, and it was a bet that has paid off quite well, as we all know.
I'm just going to quote the President from the State of the Union speech a couple days ago:  "Since 2010, America has put more people back to work than Europe, Japan and all advanced economies combined.  Our manufacturers have added almost 800,000 new jobs.  Some of our bedrock sectors, like our auto industry, are booming.  But there are also millions of Americans who work in jobs that didn't even exist 10 or 20 years ago – jobs at companies like Google, eBay and Tesla." 
And I think in that one short quote it captures the idea of an industry going from our traditional or more-or-less traditional vehicles and companies all the way up to some of the autos that will increasingly be part of the future, in particular in that case an electric vehicle, which will be a focus for much of my remarks.  So a good fraction of those added manufacturing jobs have been in the auto industry and the supply chain.
Now, when the President – I'm not going to repeat the story, because we all know when the President took office the automobile industry was almost literally on the brink of collapse, with a lack of access to credit, plunging auto sales, production cuts, job elimination.  That assistance, particularly with GM and Chrysler, on the condition that there be a restructuring of the business model and a commitment to the plans required to return to viability, was the right call.  GM expanded production, Chrysler repaid its loans six years ahead of schedule.  GM, Ford and Chrysler all returned to profitability, with U.S. automakers adding nearly a quarter-million jobs since the middle of 2009, the best period of growth in more than a decade.
Today what I want to focus on the role that the Department of Energy has played, both through direct assistance, if you like, and through the importance of technology developments, including technology collaboration with auto-industry suppliers both in terms of some of the traditional vehicles, pushing efficiency, and in terms of some of the new technology vehicles that will continue to take increasing market share.
Now, we have, fundamentally, two solution pathways to address these transportation challenges.  One is using conventional fuels more efficiently, and secondly is replacing conventional fuels with cost-competitive domestically produced alternatives.  And now, while we have programs that span essentially all the options, today in a few minutes I want to  just focus  on vehicle electrification, one of the pathways that, of course, can both sharply reduce petroleum use and can sharply reduce greenhouse gas emissions, particularly as the electric sector decarbonizes.  And is the sector that is viewed as the – probably the lead – in terms of decarbonization.
So, turning to specific programs, we have our EV Everywhere Grand Challenge.  And there the focus has been on the goal of, by 2022 – the program was established in 2013, so essentially in a decade – to have PEVs, plug-in hybrids, that are as affordable and convenient as today's gasoline-powered vehicles – affordable being defined as combined for, like, purchase cost and fueling cost over a five-year period.  So that's  the fundamental metric.
Now, in terms of that cost reduction, the R&D has had a strong focus on reducing battery costs.  And today, our modeled high-volume cost for advanced battery technology is now below $300 per kilowatt-hour – $289  technically – but I wouldn't take the third significant digit too seriously.  But that's a 40 percent reduction from just three years ago.
And as an aside, we are seeing these kinds of cost reductions in a lot of new technologies.  Whether it's solar, wind, solar LEDs or batteries for vehicles, these kinds of cost reductions really imply that we are seeing a revolution now and not something that's always somehow in some distant future.  So that's been a huge, a huge step forward in just three years.
To date, nearly 300,000 PEVs have been sold since they were first introduced just four years ago; 118,000 last year, a 20 percent year-on-year increase over 2013.
Now, many of these were built in factories that have been upgraded, or in some cases built, with the support of our loan guarantee program.  We have put roughly $8 billion in loans into the automotive sector through our Advanced Technology Vehicle Manufacturing Loan Program.  Noteworthy among those, loans to Ford for almost $6 billion, to Nissan for about $1.4 billion, and Tesla was roughly half-a-billion dollars of loans. 
Just last week, the President visited Ford's Wayne Assembly Plant in Michigan, and that was a plant that took $300 million of that roughly $6 billion loan for upgrading, for expanding production to EV and hybrid vehicles.  So now that plant is producing Ford Focus models, Ford C-Max models, whereas it was producing Expeditions and Lincoln Navigators and the heavy SUVs.  So that's part of the restructuring that has been  committed to in terms of producing these highly efficient  vehicles.
Now, more generally, of course, in that story of Ford and other companies coming back over these last years -- Ford, for example, has preserved and/or created about 33,000 jobs. Also, they are now moving the EcoBoost engine into – as an option to all – to all models being produced.  So really a terrific story in terms of the evolution of the product line and, of course, the economic success of the company.
They are by no means the only story.  Another one, the Chevy Volt for example, to come out in 2017, is talking about a 200-mile range and a car at about $30,000, plus federal subsidy of course.  But again, it's a great story going forward.
To help on the educational front, another thing that we have done at DOE was to create the eGallon, and it's an easy, Internet-assisted way of looking at the cost of fueling a vehicle with electricity versus gasoline.  And today, the average eGallon cost is about $1.28.  Now, of course, the price of gasoline has come down very substantially, the average cost across the country now just north of $2.  But I don't think that's going to come down to $1.28.  And in fact, of course, as the President has emphasized, we should certainly enjoy this price of gasoline now but maybe not count on it for being a new normal as we go forward.
Another area in terms of our focus on electric vehicles, of course, is the infrastructure.  And very early on, using a data-driven process – perhaps not surprising, but using, again, data – the workplace was obviously identified as a very important vehicle-charging opportunity. 
And so the Department started the Workplace Charging Challenge, actually right here at the Washington Auto Show just two years ago.  And since then, more than 165 companies have joined and committed to this workplace charging program at more than 350 worksites across the country.  So these are helping, obviously, effectively extending the range, if you like, because cars tend to stay at home or work for an awful lot of the time for an awful lot of people.  And so that's been tremendously helpful, estimating to save by now nearly 400,000 gallons of fuel.
We are also supporting hydrogen infrastructure development to assist with fuel-cell vehicle deployments.  So, again, another public-private partnership, in this case launched last year, called H2USA; now includes about 40 members, with automakers, local governments, hydrogen fuel-cell industry players, academia, key NGOs, et cetera.  And there I'm again pleased to say that, on the fuel-cell front, the DOE scientists and engineers,
DOE support for RD&D in the industry and elsewhere have contributed, again, to tremendous cost reduction in this area.  Fuel cells – automotive fuel cells, roughly 50 percent cost reduction since 2006 --  reductions of platinum requirements and catalyst by a factor of five -- improved durability -- natural gas production of hydrogen getting down to roughly $2 per gallon of gasoline-equivalent, $4 let's say for full distribution and delivery. 
And again, pretty substantial reductions, getting into very interesting areas.  Still major opportunities for further reduction, and of course still a system challenge in terms of really building out a full infrastructure that can support  fuel-cell sales and fuel-cell vehicle use in other than very, very specific geographies.  And of course, today California is a big focus for that.
Now, we're still pushing on developing new advanced vehicle technologies with, again, this focus on cost reduction.  And crucial to this is certainly addressing industrial capacity constraints by targeting aid to the auto supply chain, to suppliers.  This is a very important theme in our going forward.  And in particular I mentioned earlier the loan program, with our $8 billion deployed, and that's been extremely effective, and the portfolio of the ATVM program we think has been extremely effective. 
But perhaps even more important going forward is we have $12 billion, roughly, of remaining authority that we are now looking to deploy.  And last year, we – and still we are making the point  – that auto suppliers are also very, very good potential customers for this loan program. And we are open for business in what are, frankly, very, very generous terms for those who would like to consider these loans for developing new capacity, expanded capacity, particularly focused on the kinds of supply chain technologies that will be needed for the efficient or alternative technology vehicles of the future.
Returning to the research, development and demonstration component of our programs --  as opposed to the deployment programs through the loan program -- today we are announcing an additional opportunity.  It's a new $56 million funding opportunity for RD&D for a portfolio of advanced vehicle technologies – electrification, lightweight materials, engines and fuel technologies for both light and heavy-duty vehicles. 
That includes $30 million devoted to advanced batteries, electrical drive systems and materials technologies, for lowering cost and increasing efficiency, and improving convenience of plug-in vehicles.  This is directly supporting our EV Everywhere Grand Challenge.  But there are other focus areas as well, including technologies for heavy-duty engines and natural-gas engine development, including bi-fuel developments.
The manager of that $56 million is Dave Danielson down here in the front row, who heads our Energy Efficiency and Renewable Energy program.  He's a bit groggy right now, with a new baby having just been delivered.  I suggest you get after him right now if you want some of that $56 million.
This funding opportunity that I just announced also builds on another announcement we made last week of a $14 million vehicle technologies incubator.  Actually, Dave came out of our ARPA-E program, and this is in many ways modeled after that, with an open call as opposed to technologies along our various roadmaps – again, looking for new technologies, new ideas that really won't be found in our current portfolio.  So, again, we want to keep advancing along our roadmap for the specific technologies we are developing, but we're also open for some blue-sky ideas that will take us into the future.
We have also issued a $35 million notice of intent for future funding support of fuel-cell technologies specifically.  And again, we will see, I think, a lot of activity in my tour around the auto show in a few minutes.  I already mentioned I saw my first fuel-cell vehicle here last year.  The DOE fuel-cell program started in the 1970s, after the first  oil embargo – I think technically it was with the Energy Research and Development Administration – with a meeting at Los Alamos that really mapped out some of the pioneering directions that  were taken.  And it's now 40 years later -- again, we are seeing the impact of that as carmakers are unveiling their fuel-cell cars.
But I want to say too often in the entire energy business we find multi-decadal times needed from the early work on technologies to their deployment, and obviously fuel-cell vehicles are now just in the very beginning of deployment.  Another story in the energy space -- you may have seen the article in The New York Times a couple days ago in terms of the unconventional oil and gas revenue, another program that started roughly 1979, and now we have the shale gas and shale oil boom. 
But once again, we're talking, you know, 30 years later.  A big part of what we need to do and our goals are with our RDD&D programs is to try to shorten that time.  If we can cut that in half, for example, in some important technologies, that will have a huge impact for our economy and for our environment.
Now, in terms of fuel-cell vehicles, again, there are, I know, at least three manufacturers with models here: 
Hyundai, which launched the first fuel-cell vehicle available for lease in Southern California last year, Tucson FCV;
Toyota announced the first hydrogen fuel-cell vehicle available for sale in the United States, the Mirai, which means "future" in Japanese, and that will go on sale this year with a range of 300 miles; and
Honda unveiled its concept of a fuel-cell vehicle last year as well. 
But of course, many other automakers – General Motors and Ford, BMW, Nissan, Mercedes, Daimler – have also committed to getting their first new fuel-cell vehicles on the road, some in the 2017 time frame.
Now, this is an auto show, and certainly the main focus is on, you know light-duty vehicles.  But let me just say a word about our SuperTruck initiative, because improving the efficiency of long-haul tractor trailers is an important way to also reduce our petroleum use, and we're very pleased with the progress that's being made. 
The goal is to cut fuel consumption by half by 2015, and the technologies are very, very well on their way.  I personally got to sit in the cab of a Cummins-Peterbilt SuperTruck team that we have supported, an ultramodern demonstration – not commercial model yet, but demonstration 18-wheeler.  And it achieved a 75 percent improvement in freight efficiency, so even well exceeding our goal, at least in a demonstration truck. 
These long-haul trucks consume about 20 percent of all vehicle fuel in the United States, so a wide adoption of these technologies is talking in the range of tens of billions of dollars a year in fuel-cost savings.  Three other teams are involved in this initiative, each with its own approach, but each with at least 20 percent of the efficiency improvements, 20 out of 50 target.  That leaves 20 coming from advances in the engines and additional improvements coming from better aerodynamics, reduced weight, high-efficiency tires, technologies that limit idle time and the like.
Finally, moving to conclusion, I'd just say that another area that is not just about – today at least --   seeing a car or a truck, but is about developing the manufacturing technologies that are critical to next-generation highly efficient vehicles.  This is also a major focus of what we do, particularly with our National Manufacturing Initiative sites. 
Now, we started in partnership with the Department of Defense in a first hub focused on 3-D printing.  That's located in Ohio.  Simultaneously we supported a 3-D manufacturing demonstration project at Oak Ridge.  And in fact, Oak Ridge National Laboratory, together with some partners – Local Motors in particular – have, I think probably all of you know, printed a 3-D printing of auto frames.  Tires/battery/engine are extra. 
But they are talking about a 44-hour or less beginning-to-end process to print up at low cost an auto frame.  And so, in fact, Local Motors is talking about a $20,000  to $30,000 vehicle in a few years using 3-D printing.
Then we did – then about a – just about a year ago, we did another full-size hub on essentially power electronics – wide bandgap semiconductors – in North Carolina.  And then, just a couple weeks ago in Tennessee, we announced another major hub for lightweight composite materials – which, of course, among many other applications, will be very important for vehicles.  So these are manufacturing hubs, and with them, I might add, associated training programs so that we are also training for the future the workers for these advanced technologies going forward.
So we have a very multifaceted program, and today I've only really focused on the electric vehicles principally.  But a lot is going on.  I think we will do our part, certainly.  I hope  we continue producing great cars, lowering our oil dependence.  I'd remind you we all know we are producing a lot of oil domestically, but we still import over 7 million barrels a day.  So lowering our oil dependence is a direct economic benefit in addition to some of the environmental benefits which come from – typically from reduced greenhouse gas emissions.  Certainly our country's love of cars will continue, along with our love for a strong economy and a cleaner environment.
Of course, another of the interesting directions in the transportation industry, moving towards autonomous cars.  And again, Mercedes made an announcement about a futuristic luxury sedan, but that of course will test whether it's really a love of cars or a love of driving.  And that'll be, in itself, a very, very interesting thing to observe at future auto shows. 
Oh, and of course, I should say the Mercedes announcement, interestingly enough, was made at a Consumer Electronics Show rather than an auto show, which kind of poses a very interesting question for the future.
So a lot is going on.  Department of Energy is going to be a strong partner to our companies in terms of producing great cars for the future.  Thank you very much.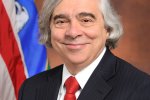 Dr. Ernest Moniz
As United States Secretary of Energy, Dr. Ernest Moniz is tasked with implementing critical Department of Energy missions in support of President Obama's goals of growing the economy, enhancing security and protecting the environment.As United States Secretary of Energy, Dr. Ernest Moniz is tasked with implementing critical Department of Energy missions in support of President Obama's goals of growing the economy, enhancing security and protecting the environment.
more by this author