Well, thank you, Simon, for welcoming me to this important meeting that follows on a whole series of important meetings that we and the President have hosted over the last year with regard to Power Africa and some broader issues relating to African development.
Let me start by clearly reinforcing President Obama's ongoing strong commitment and recognition that the health and prosperity of really hundreds of millions depends on our ability to help break down the barriers to investment and support the deployment of energy across Africa.
In turn, this entire administration is committed to making this happen and, as was the case at last June's U.S.-Africa Energy Ministerial, that commitment is reflected in the participation of the Department of Energy.  But also, again at this meeting, as was the case in June, the leadership of the Ex-Im Bank, AID, OPIC, GDA  is here with a very, very strong focus, clearly, on moving to finance and engage the private sector in this important Power Africa initiative.
We also understand – this is a message I tried to make very clear last June -- that we understand that in talking about U.S.-Africa that there are so many different conditions in different countries that clearly our solutions have to recognize both national and regional characteristics.
Our Power Africa efforts are really even more important in the context of climate change.  Again, that was part of our discussion last year, and is still part of our discussion.  The IPCC continues to warn that circulation patterns and growing seasons in Africa will be seriously affected in the years ahead, threatening health and economic development opportunities there in Africa. 
And of course, since our meeting last June in Ethiopia, there's been a lot of progress toward what we hope will be a very positive outcome in Paris.  And I would just emphasize, as you all know, the announcement in Beijing in October between Presidents Obama and Xi we hope will prove to be a watershed event in terms of changing the nature of the dialogue.  I think we're seeing that.
Addressing climate change is so integral to what we are doing as well on Africa because issues of, let's say, breaking a dependence on diesel for electricity in rural settings is clearly good for the environment, it's also good for the economic development of those communities.  So this is another, of course, a very, very strong focus for President Obama, taking leadership to continue to do so in both of these arenas, Africa and broader climate issues.  And again, these distributed-generation and high-efficiency technologies, again, will address all of these issues.
Turning back to Power Africa more explicitly – it was 19 months ago the president committed to Power Africa to benefit Sub-Saharan Africa, where today roughly 7 percent of the population are those who have electricity.  So we focus on that both through national grid development, but also, as we announced back in June, mini-grid, off-grid systems as well.
President Obama set the initial goal of 10,000 megawatts of clean electricity, increasing access to at least 20 million households and businesses, and then over a year later – just over a year later, in August -- tripling the goals under Power Africa, a very – a very impressive target.  The U.S. government has committed more than $10 billion in financial support and loan guarantees, and so these are good projects that we support. 
Power Africa has also mobilized more than $29 billion in other commitments to support the initiative.  This includes more than 90 private-sector partners who have committed over $20 billion and the strategic partners, the World Bank and the African Development Bank and the government of Sweden, committing an additional $9 billion.
This has helped move forward several specific projects.  Some of the examples:  Ethiopia's first-ever IPP; the gigawatt Corbetti geothermal power plant; a 300-megawatt new power generation project near Lake Turkana, Kenya, supported by OPIC; a 10-megawatt hydropower project on the Kiwira River in Tanzania, supported by a partial USAID loan guarantee.
The Department of Energy plays a key role in Power Africa, at least in a couple of ways.  One is providing expertise on energy technologies to sister agencies and to African governments through program offices and -- through our network of National Laboratories, particularly our National Renewable Laboratory, in Colorado -- we engage in many training programs, for example, in Africa.  And secondly, the Department provides expertise on policy, regulatory and commercial framework issues that can help track increased private investment in the energy sector in Africa for the first set of energy solutions.
I want to make very clear certainly this Administration has nearly two years left, and the President is committed, as I certainly am personally committed, to continue and build on our engagement.  Again, last summer, with Mr. Alemayehu of Ethiopia, we had a very successful U.S.-Africa Energy Ministerial, again, as over 40 African countries participated in the ministerial, along with very senior U.S. government officials and representatives from Africa's regional and international financial organizations. 
Importantly, we had also over 60 energy companies there, demonstrating once again the importance and the focus on engaging the private sector and making the conditions of those private-sector investments a priority.
There I also announced the Beyond the Grid initiative within Power Africa to, again, unlock investment growth for the off-grid, small-scale energy solutions.  And this, of course, is something that is important in Africa, but is also important in many other contexts, I might add including in our own country.  For example, in Alaska, we have many rural villages that have the same kind of challenges, especially very expensive energy.
You all know that two months after that ministerial in Ethiopia, of course, President Obama welcomed African heads of state and government to Washington for the three-day U.S.-Africa Leaders Summit.  It was the largest event of its kind that any U.S. president has held, which puts in context his commitment to addressing African needs. 
This summit advanced the Administration focus on a trade and investment, and its commitment to Africa's security, democratic development and the welfare of its people.  There, are the summit, I also had the opportunity to meet several counterparts from Africa and to discuss our Department of Energy follow-up activities from the ministerial.
So let me talk a little bit about where we've come since that time.  In the follow up we've identified so far – and are focusing our efforts -- most productively in five major opportunities:  renewable energy, energy efficiency, energy access, natural gas resource development and technical capacity building.  Let me just say a few words about each of these.
 In renewables, of course, we see huge potential in a variety of ways.  But let me just emphasize solar energy, for example, as a tremendous opportunity for greater energy access.  This will, of course, require not just the hardware, if you like, but also well-trained people, technicians, to make sure that these systems can operate and operate for some time as well. 
So, as an example, again, our National Renewable Energy Laboratory – funded by Sonanlgol and facilitated by other DOE experts who trained 30 solar technicians from Angola's provinces in solar installation and maintenance as part of the train the trainer approach.  I think this comes as a major benefit to Angola, but also it can be a blueprint for extension to other countries. 
Now, solar is not the only – the only renewable.  For example, I already mentioned the geothermal project in Ethiopia.  And that just reflects a much bigger opportunity in eastern Africa. 
Energy efficiency.  Going back to my climate comments earlier, I had said that, globally, it is very hard to see a solution to the climate challenge on the scale we need without a very important contribution from the demand side.  So energy efficiency is important everywhere.  We certainly have a very strong focus internally at DOE. 
And here we are working to advance the work that has been generated, especially from the Clean Energy Ministerials, globalizing an energy access partnership.  This has already shown strong leadership incorporating energy efficiency concepts into new energy access contexts, based on the principle, again, that it's better to use energy more wisely as it is to expand supplies. 
It has demonstrated that, by partnering energy efficient appliances and off-grid generation, small generation units are able to power significantly more appliances, leading to a higher quality of life and more resources to spend in other ways.  Importantly, this effort includes an emphasis on quality certification systems to help ensure that cheap, substandard products don't poison the market, rather than performing relative to efficiency and reliability claims.
Energy access:  We are, you know, realistic about the difficulty of replicating the century-old electrical grids in Europe and North America on a continent as vast as Sub-Saharan Africa. 
Of course, we also have questions whether that's the right model in any case.  And almost certainly the solution in the end will be a hybrid of the central station and distributed approach.  But here in Africa, this may be a way of getting to a new architecture for delivery that, in fact, sets a new direction.
But when we get to mini-grids, again, they've been very, very instrumental, but they also must be reliable and ensure continuous electrical supply with minimal maintenance.  And to that end, again from the Clean Energy Ministerial's partnership that I mentioned earlier, and again in collaboration with our National Renewable Energy Laboratory, we are trying to develop a quality assurance framework for mini-grids. 
So the collaboration in Power Africa – the DOE co-organized stakeholder consultations in Africa to get feedback from researchers, practitioners and others in the mini-grid sector to get a realistic, workable framework.  So, again, you're seeing this, and we have to recognize what it will take to sustain these systems in Africa, and a very, very strong focus on this issue of training assurance and the like.
Turning to natural gas, we are at work to help African nations develop and use potentially vast natural gas resources.  Production in Africa has grown by about 10 percent annually in the past decade.  But much more, we think, could be done to develop gas, both for domestic use and as an export opportunity. 
So to support our African partners to develop these gas resources, we will work with emerging natural gas producers on technology issues, but also to advance regulatory policies that encourage transparent, safe, and environmentally sensitive development of these resources.
Finally, turning to technical capacity building, although I've already referred to that in a couple of contexts, this has to continue to be a very, very strong focus, particularly having Sub-Saharan Africans develop the capacity for engineering, assigning and operating their own power systems.  Again, starting with robust training and education programs in universities and colleges that already exist there. 
So we've begun talking to U.S. universities and our National Laboratories about creating partnerships with African educators to help produce a cadre of engineers, technicians and policy experts whose talents will help grow their nation's energy sectors.  I will admit that's something that I was very interested in in my previous incarnation at MIT, and it's something that I would like to expand substantially at DOE and across the Administration.
So, to conclude, we have an ambitious set of tasks ahead of us at the Department.  We have now just established – and it's just begun to meet – an Africa Task Force to bring together our best expertise to support sustainable development of Africa's energy potential and support these areas – the five areas, for example, that I already mentioned – in our – in our own efforts with our administration colleagues.
We have co-chairs for this effort, including Andrea Lockwood from our International Affairs Office; Chris Smith, our Assistant Secretary for Fossil Energy; and John MacWilliams, my Senior Adviser for Finance.  Each of them has incredible talents and experience to bring to a huge job.  And Chris Smith will travel to Africa again this spring to work directly with our Africa partners as our task force sets up our roadmap, certainly at least for the next two years, to energetically pursue the Africa and the Power Africa agenda.
So, again, this past year has brought unprecedented U.S. government engagement with African partners.  But we need to keep sharpening our focus on results so that we will have principally assisted and helped the African people with their economic aspirations, even as we do it in an environmentally sensitive way.
So we're excited to do our part to make this happen.  And I hope that the results of these two days of meeting will bring us back some new ideas for expanding and implementing our programs.  Thank you very much.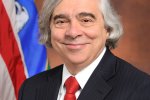 Dr. Ernest Moniz
As United States Secretary of Energy, Dr. Ernest Moniz is tasked with implementing critical Department of Energy missions in support of President Obama's goals of growing the economy, enhancing security and protecting the environment.As United States Secretary of Energy, Dr. Ernest Moniz is tasked with implementing critical Department of Energy missions in support of President Obama's goals of growing the economy, enhancing security and protecting the environment.
more by this author