You are here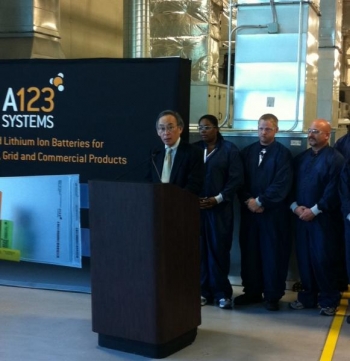 Secretary Chu speaks at the A123 Systems lithium-ion battery manufacturing plant in Romulus, Michigan, while employees look on. | Photo Courtesy of Damien LaVera, Energy Department
To compete in the global economy, the United States must keep high-tech manufacturing jobs here. That's why Secretary Chu spent the day in Michigan focusing on advanced vehicles.
The big event for the day was a tour of the A123 Systems advanced battery manufacturing facility in Romulus, Michigan. The Energy Department has supported A123's innovative technology from the beginning, starting with basic research and assisting with technology testing and development. Two years ago, the company also received $249 million in Recovery Act funds to manufacture batteries for electric vehicles.
That support allowed A123 to grow and build the facility in Romulus and another in Livonia. Just a few months ago, the company also hired its 1,000th permanent worker, with thousands more expected to come as demand for advanced battery technology continues to grow.
This is all part of the Obama Administration's efforts to create good jobs for Americans while reclaiming the global lead in advanced battery innovation and manufacturing. As the Secretary has said many times, we want products to be invented in America, made in America and sold around the world.
Advanced batteries are one area where we can absolutely do that.
Even though electric vehicle battery technology was discovered through American innovation and creativity, the U.S. produced just two percent of the world's advanced batteries prior to the Recovery Act. Thirty new manufacturing plants across the country for electric vehicle batteries and components – including A123 – were supported through the Recovery Act, meaning we'll have the capacity to manufacture enough batteries and components for 500,000 electric vehicles annually by 2015.
Prior to the A123 tour, the Secretary participated in the Department of Energy-U.S. Army Advanced Vehicle Power Technology workshop in Detroit. The Army and Energy Department announced a new Advanced Vehicle Power Technology Alliance. This partnership will focus on ground vehicle power technology research, development and transition.
All in all, it just goes to show that the U.S. is back in the game. And when it comes to advanced battery and vehicle innovation, development and manufacturing, that's exactly where we should be.