You are here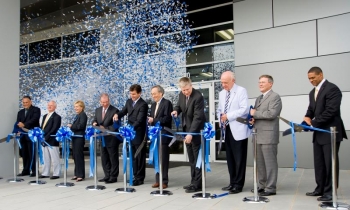 Secretary Chu joins local officials and dignitaries for Celgard's ribbon-cutting. | Photo courtesy of Celgard
Across the country, American companies and workers are leading the way in capturing the global market for advanced alternative vehicle technologies. This is illustrated no more clearly than in Michigan and North Carolina.
Last week, Secretary Chu toured the A123 Systems advanced battery manufacturing facility in Romulus, Michigan and joined the company in celebrating its 1,000th new hire in the state. Yesterday, the Secretary traveled to Concord, North Carolina, where he joined local officials in a dedication ceremony for Celgard's new lithium-ion battery separator facility.
In 2009, Secretary Chu visited Celgard's facility in Charlotte to announce $2.4 billion in Recovery Act-funding for 48 advanced battery and electric vehicle projects, including $49 million for Celgard to help expand its Charlotte operations and build the Concord facility. With the help of these expansions, Celgard expects to double its production capacity by 2012. In fact, since January 2010, the company has added nearly 200 jobs in North Carolina.
Due in large part to the investments made by the Recovery Act and innovative companies just like Celgard, the U.S. will have the capacity to manufacture enough electric vehicle batteries and components to produce up to 500,000 electric vehicles annually by 2015. For example, Celgard's separators are key to advancing long-living, high performance batteries.
The successful growth of companies like A123 Systems and Celgard is a clear example that the investments we're making are creating jobs and strengthening American competitiveness, while advancing technologies that will help consumers save money.
It's a win-win-win situation, all working to make the U.S. the first country to put 1 million electric vehicles on the road by 2015.