You are here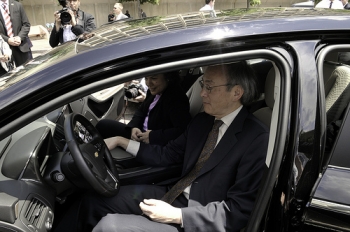 Secretary Steven Chu and CEQ Chair Nancy Sutley testing a Chevy Volt | Photo: Dept of Energy
Today, White House Council on Environmental Quality Chair Nancy Sutley and U.S. General Services Administrator Martha Johnson presented Secretary Chu with the first set of keys for one of the Federal fleet's 116 new electric cars.
"This builds on efforts already underway to reduce fuel use in Federal fleets," said Secretary Chu.
These electric vehicles signal the next step toward reaching the Obama Administration's goal of getting 1 million advanced vehicles on America's roads by 2015. They will also help reach previously announced goals of reducing Federal agency fuel consumption by 30 percent by 2020 and decreasing oil imports by one third by 2025.
In the past year alone, the number of hybrid vehicles in the Federal fleet has doubled.
It's estimated that these new vehicles will save the Federal government – and taxpayers – 29,000 gallons of gas and $109,000 each year. They're also expected to spur job creation and innovation as companies work to create and build better batteries and refine the battery recycling process.
Secretary Chu also noted that the Department of Energy has already replaced more than 750 vehicles with hybrids, the headquarters fleet is more than 75 percent alternative fueled vehicles, and the fleet inventory will be reduced by 35 percent over the next three years.
Lindsey Geisler is a Public Affairs Specialist with the Office of Public Affairs.