You are here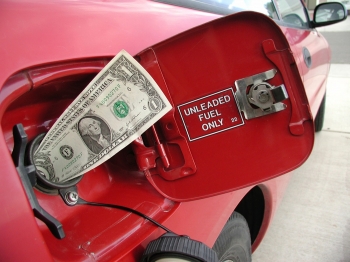 A look at tools that can help consumers save money and fuel, whether you're in the market for a new vehicle or trying to make the most of your current one. | Photo courtesy of Auto Guide.
Yesterday, as I walked along the floor of the North American International Auto Show, I found myself continually taken with the variety of vehicles and technologies on display. It seems like there's a vehicle configuration for every segment of consumer these days. That level of choice can also be daunting. With so many options, it can be hard to decipher what car is right for you, or if there's a clear economic benefit in trading up to a new vehicle. Fortunately, the Energy Department offers a number of tools that can help consumers save money and fuel, whether you're in the market for a new vehicle or trying to make the most of your current one.
FuelEconomy.gov, a partnership between the Energy Department and the Environmental Protection Agency, is a great place to start. The site's recently updated Find-a-Car tool helps consumers find a fuel-efficient vehicle that meets their specific set of needs. Buyers can browse by model, class, price, or miles per gallon. The entry on each car shows the vehicle's annual fuel cost, fuel economy, amount of petroleum used, smog score, and safety ratings. Drivers can also compare up to four different cars side-by-side. There's even a mobile version so that car shoppers compare models as they browse the lot.
Once a driver has chosen a vehicle, he or she can find out its full lifetime cost on the Alternative Fuel and Advanced Vehicles Data Center's (AFDC) Vehicle Cost Calculator. After averaging in the driver's local gas prices, daily driving distance, and annual mileage, the calculator gives a cumulative cost of ownership that includes fuel, tires, maintenance, and loan payments. The Vehicle Cost Calculator also provides information on a vehicle's lifecycle greenhouse gas emissions. This calculation includes not only the tailpipe emissions, but also emissions created in fuel production, whether the fuel is gasoline, electricity, or biofuels. Bar and line graphs for each result make it simple to compare different vehicles to one another.
Even if you aren't in the market for a new vehicle, you can still benefit from the Department's collection of tips and tools. FuelEconomy.gov's Gas Mileage Tips offer a wealth of information on how drivers can improve their vehicles' efficiency. From avoiding excessive idling to keeping tires inflated, there are a variety of quick and easy ways to get better mileage and save money – many of which you may not have come across before. For example, every five miles someone drives above 60 miles per hour is like paying an additional $0.26 per gallon for gasoline, since gas mileage decreases rapidly above that point.
If you own a vehicle that can run on alternative fuel, like electricity or E85 (85% ethanol and 15% gasoline), you can plan out your next road trip by consulting the AFDC's Alternative Fueling Station Locator. The Locator lists stations around the country that sell alternative fuels, including ethanol, biodiesel, natural gas, andelectricity. Drivers can find the fueling station nearest to a specific address or locate where the closest stations are along a driving route.
All of these tools help maximize drivers' fuel economy and dollars while also improving our country's economic and environmental sustainability. Just like the exciting fuel efficiency technologies I've been seeing here at the Auto Show, they're truly a win-win for all involved.