You are here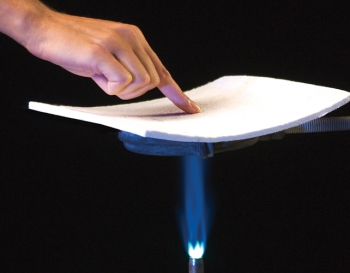 Aspen Aerogel's innovative insulation material works well under very cold and very hot temperatures. Here, the insulation is held over a flame. | Courtesy of Aspen Aerogels.
Most of us are familiar with the classic Thermos bottle. The bottle keeps hot liquids hot with its vacuum insulation material – but without good insulation, the heat from the liquid is wasted.  
Likewise, on a much larger scale, about 950 trillion BTUs (British Thermal Units) of heat energy is lost every year due every year to the poor insulation of pipes, valves, traps and components from industrial steam distribution systems. This is almost one percent of total domestic energy consumption – the equivalent of wasting close to 165 million barrels of crude oil or just over 7,500 million gallons of gasoline.  
As part of the President's all-of-the-above strategy to solve America's clean energy challenges, the Energy Department is investing in an innovative insulation material that saves energy and money for industrial facilities while also helping to support 50 full-time clean energy jobs for Americans. 
With help from the Energy Department's Advanced Manufacturing Office, Aspen Aerogels created Pyrogel and Cryogel, insulation products that use aerogel insulation technology. Aerogel insulation saves energy and money because of its structure — which is comprised of lightweight silica solids that take up only three percent of its total volume. The remaining 97 percent of the insulation is composed of air in the form of extremely small pores. Because the air has little room to move, it traps the heat effectively – saving energy and money.  
Pyrogel and Cryogel are effective insulations for industrial settings because of the durability, efficiency, low density and resiliency of both materials. 
With the help of the Department's Advanced Manufacturing Office, Aspen Aerogels reduced its energy consumption by 25 percent, paving the way for the company to add a second manufacturing line in 2011 and 50 full-time jobs at its East Providence, Rhode Island facility.  
This breakthrough insulation is only one of the many examples of the opportunity and potential of clean energy innovation to save money for American businesses, enhance America's competitiveness, and win the global race for clean energy technology. 
For more information about projects like this, visit the Advanced Manufacturing Office website.