You are here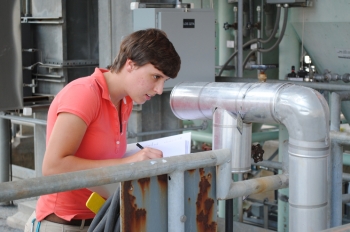 Spencer Isom, second year engineering intern for Savannah River Remediation (SRR) and fourth summer at Savannah River Site (SRS), performs a standard equipment check at Saltstone Production Facility. | Photo courtesy of Savannah River Site
Editor's note: This article is a cross-post from Savannah River Remediation (SRS).
College intern Spencer Isom recently began her second summer with Savannah River Remediation (SRR), and her fourth year at Savannah River Site (SRS), where she continues a 31-year family legacy on site.
Isom, from Evans, Georgia, attends the University of Georgia in Athens as a fifth year senior majoring in biochemical engineering. She started college majoring in chemistry, but soon her father, Walt Isom, an engineer himself, was the one who encouraged her to try another path.
"I ignored him at first because he was biased," said Isom. "But finally I switched to the engineering program for a year and ended up loving it."
Walt Isom, who was recently transferred to the Hanford Site in Washington state, spent 31 years at SRS. His work ranged from designing a process at Savannah River National Laboratory (SRNL) to help with the NASA Cassini launch to his later years serving on the engineering management team.
Continuing the family lineage, Isom spent her first two years doing research and development at SRNL for a project called Small Column Ion Exchange (SCIX). Last year, she began working with SRR in the Defense Waste Processing Facility (DWPF), and this year is working in the Saltstone facilities. With nearly four years of experience on site, Isom reports that she is always learning something new.
"There are so many fascinating processes, people, and work environments, you can't get bored," said Isom. "Where else can you go to learn about a process where they turn nuclear waste into glass?"
One of her duties this summer is working on a calculation that takes into consideration how much excess water is used during the grout-making process at Saltstone. This work is important for SRR to reduce the fluctuations in the water to premix, or cementatious material, ratio and ensure the passage upstream of the vaults remains unclogged with dry cement.
Aaron Staub, in Waste Solidification Engineering, serves as Isom's mentor this summer. Isom is pleased Staub assigned her a project that is doable but that also challenges her to perform actions and develop habits she will need in the workforce after graduation, such as working with new people and applying new engineering skills she has recently acquired in school.
Among the many things Isom hopes to gain this summer are expanding work experiences, networking with others, confirming her career choice, and feeling a sense of accomplishment in the workplace.
"I feel like a job in the nuclear industry is a viable one," said Isom. "There are a plethora of opportunities to advance in and try new things all at the same time. An internship here opens doors; it's as simple as that."