You are here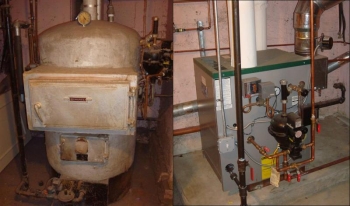 Before and after shots of a new boiler system | courtesy of the Office of Weatherization and Intergovernmental Programs
San Francisco's extensive stock of multifamily properties is getting some critical assistance in replacing old and inefficient boilers with new, high-efficiency heating systems using Energy Efficiency and Conservation Block Grant (EECBG) funds. By providing financial incentives to property owners, new heating systems result in energy savings, job creation for local businesses, improved living conditions for many of the city's low-income residents, and reduced maintenance bills for property owners -- not mention the environmental benefits for taxpayers at large.
Many multifamily units in San Francisco still use the original boilers, which can date back to the 1920s and 1930s. These boilers are inefficient and require frequent maintenance. Given the high cost to replace them, property owners usually resort to making quick fixes which can lead to whopping energy bills and uncomfortable residents.
The city is using $2.1 million in EECBG funds to conduct the boiler replacement program. Current estimates show the city will be able to reduce an expected 400,000 therms and 2,122 metric tons of carbon dioxide annually once the upgrades are complete.
The availability of incentives for heating systems has been a game-changer in the current slow economy, and San Francisco property owners have been jumping at the chance to replace large, clunky antique boilers with smaller, more energy efficient systems.
"Landlords are about saving money and keeping tenants happy. When they hear we're incentivizing part of the project, they do it now rather than later," said Matt Greco, Heating Systems Program Manager, who left the private sector to oversee this program and make a positive impact in the community. Local contractors are especially pleased with this program.
"It's definitely affecting our bottom line. It's generating more business. It's keeping our guys busy. It's motivating our mechanics - keeping them productive and give them more challenging work," said Bill Judge, Vice President and Project Manager at Cornely Company – a local San Francisco based boiler contractor.
Judge describes the program as user-friendly, thanks to the dedication of city staff. And according to city staff, contractors are crucial to the program's success, as they can increase their own bottom line by informing property owners about the heating systems incentives.
"Contractors conduct outreach and talk up the program. They just go through their existing client list, farm it and contact owners," said Cal Broomhead, San Francisco's Energy and Climate Programs Manager.
Administrative costs are low because this EECBG-funded program is run in conjunction with San Francisco's ratepayer-funded Energy Watch Program. Overseen by Pacific Gas & Electric (PG&E), Energy Watch provides incentives for lighting and HVAC systems.
"This is an opportunity for us to document the benefit to the state," said Broomhead, who said the city is calculating the actual savings achieved for heating systems upgrades. He hopes evidence of the savings achieved can be included in the California's future greenhouse gas reduction goals.